NSA Finalizes $6.7 Billion in Classified Tech Contracts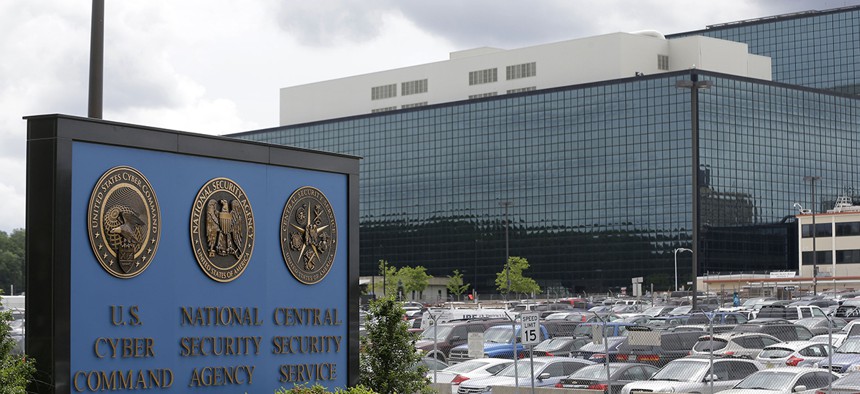 After two years, the NSA finished rebidding its "Groundbreaker" program and is beginning work on a secretive new set of communications contracts.
The National Security Agency is quietly beginning work on a new series of three communications contracts valued at $6.7 billion.
Details are sparse because the classified contracts—collectively called Greenway—were secretly awarded to telecommunications giant AT&T and defense contractors General Dynamics and ManTech International over the past year. Redacted legal documents following a protest of one of the contracts in March indicate the NSA's goal is to "technically evolve" its IT environment.
NSA's Greenway program is a continuation of its classified Groundbreaker program, which dates back to then-NSA Director Michael Hayden's decision to outsource the agency's IT operations to industry.
At the time, Hayden said the contract would allow NSA to "refocus assets on the agency's core missions of providing foreign signals intelligence and protecting U.S. national security-related information systems by turning over several information technology infrastructure services for industry's purview."
NSA awarded the first $5 billion Groundbreaker contract in 2001 to a joint alliance of contractors called the Eagle Alliance, led by Computer Science Corp., which became CSRA. The same Eagle Alliance companies, which included Northrop Grumman, held the business for well over a decade before the NSA decided to break the Groundbreaker program up into smaller pieces, resulting in Greenway.
The Three Pieces of Greenway
As Nextgov reported in September 2017, CSRA won the first Greenway contract worth up to $2.4 billion over the next decade. The company announced the award through a Securities and Exchange Commission filing, where it acknowledged the value and duration of the contract without naming the customer agency or contract's name. Months later, a redacted decision by the Government Accountability Office on a protest of the contract revealed CSRA's portion of Greenway is called "Global Enterprise Services."
The documents state "Global Enterprise Services" will focus "on services on a global scale and more virtual in nature." Following the contract, CSRA was purchased by General Dynamics, a northern Virginia-based defense contractor.
In January 2018, AT&T won the second Greenway contract, called "Regional Infrastructure Services I." AT&T's award became public following two protests lobbied against it by competitors DXC Technology and Enterprise Services LLC. According to GAO, Regional Infrastructure Services I has a maximum value of $3.3 billion over 10 years. According to the redacted documents, AT&T will "operate, maintain and technically evolve" the NSA and Central Security Service's IT environment.
ManTech International captured the third and final Greenway phase, called "Regional Infrastructure Services II." As reported by Washington Technology, ManTech announced the contract—worth up to $1 billion over 10 years—in a May 1 earnings call. Little else is known about the deal, although the redacted GAO documents state Greenway's Regional Infrastructure Services will provide "services more localized and physical in nature and provisioned at specific zones throughout the world."