Bidding Begins for Pentagon's Controversial $10 Billion War Cloud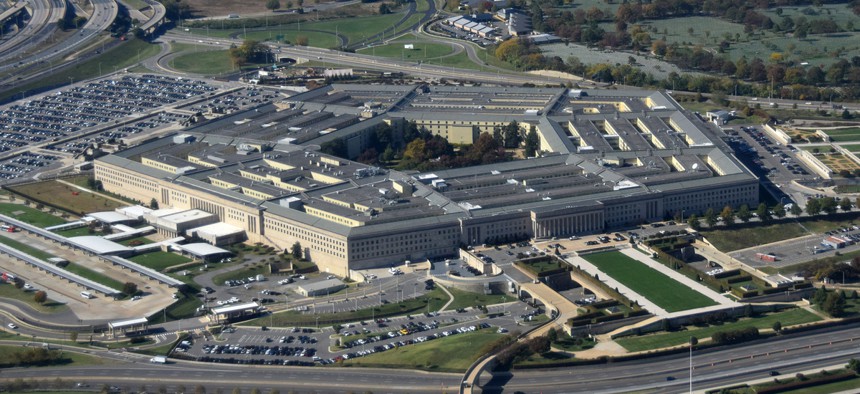 Despite some industry clamor, the Defense Department will stick to a single cloud provider for its JEDI cloud contract.
The Defense Department on Thursday officially began accepting proposals for its highly-anticipated Joint Enterprise Defense Infrastructure cloud contract.
The JEDI contract will be awarded to a single cloud provider—an issue many tech companies rallied against—and will be valued at up to $10 billion over 10 years, according to the final request for proposal.
The contract itself will put a commercial company in charge of hosting and distributing mission-critical workloads and classified military secrets to warfighters around the globe in a single war cloud.
The contract includes a two-year base deal, followed by two three-year option periods and a final two-year option—a change from the two-year base with five-year and three-year options in previous drafts. Deputy Defense Secretary Patrick Shanahan in April told reporters the structure gives the department an exit strategy—one of the issues Congress has threatened to tie up funding over.
"So if it's working, extend it," he said. "If it's not working, here are the keys, thank you. This is about, for us, preserving options creating competition and scale, but also moving quickly."
In the RFP, officials noted the contract will be competitively awarded, but Amazon Web Services is widely considered the front-runner for the contract because of its existing contract with the CIA and ability to host secret and top-secret data. According to the RFP, the winning company must meet the government's rigorous standards to host classified data within 180 days of the contract award, and meet standards to host Top Secret/Sensitive Compartmented Information within 270 days. Currently, Amazon Web Services is the only cloud service provider that meets those standards, though officials from Microsoft and IBM say they're close to meeting them.
"Modern cloud computing capabilities can access, retrieve, manipulate, merge, analyze and visualize data at machine speeds, providing substantial decision-making advantages on the battlefield," said Ellen Lord, undersecretary for defense for acquisition and sustainment, in a single source justification. "JEDI Cloud is an acquisition for foundational commercial cloud technologies that will enable warfighters to better execute a mission that is increasingly dependent on the exploitation of information."
The Pentagon received several thousand questions from interested vendors throughout the contracting process, which began with a strategy document the Pentagon released almost one year ago. The final RFP "captures the totality" of the JEDI cloud requirements, Lord said, so vendors don't need to refer to information in previous drafts.
Companies have until Sept. 17 to bid on the contract.