One of the Pentagon's Worldwide Networks Is About to Get 10x Faster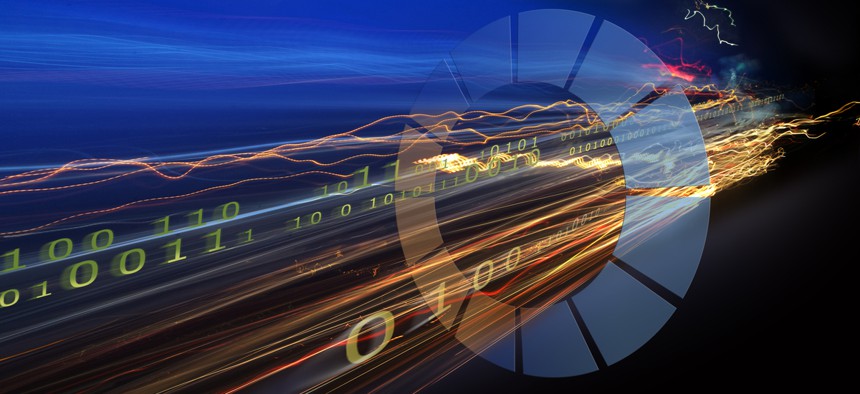 The Defense Information Systems Agency announced its plan to increase bandwidth for one of its mission-critical networks.
The Pentagon is revamping a protected telecommunications network it uses to deliver mission-critical information around the world 10 times faster.
On Wednesday, the Defense Information Systems Agency announced its plan to increase the bandwidth of the Defense Information System Network—which delivers data, voice and video—from 10 gigabytes per second to 100 gigabytes per second. The upgrade, which is scheduled for completion in fiscal 2019, would increase network resiliency, improve encryption capabilities and modernize legacy infrastructure.
The project comes as defense agencies ratchet up demands for network speed and reliability.
"Our goal is to provide a more robust, survivable network infrastructure that will establish multiple diverse paths," said Johnathan "Chris" Bunting, chief of the global projects office in DISA's Infrastructure Directorate, in a statement. "This will eliminate network outages due to single-event occurrences and improve our availability to key Department of Defense applications and services."
The network upgrade will boost operating speeds for the agency's Enterprise Data Centers, Joint Regional Security Stack sites and Joint Information Environment, the Pentagon's beleaguered effort to consolidate IT infrastructure. It would also bringing new fiber connections to command posts around the globe to support intelligence, surveillance, cybersecurity, missile warning and other critical operations.
"This is a critical infrastructure upgrade that will benefit unified commanders and combat forces worldwide," said Bunting.
DISA announced the project one week after House Armed Service Committee Chair Mac Thornberry, R-Texas, introduced a bill that would reassign IT contracting and acquisition responsibilities within the Pentagon, gutting DISA and six other defense agencies.
The legislation supports Thornberry's larger plan to cut spending by so-called "fourth estate" agencies by 25 percent.