COVID-19 Compressed Government's Digital Transformation Initiatives. Now What?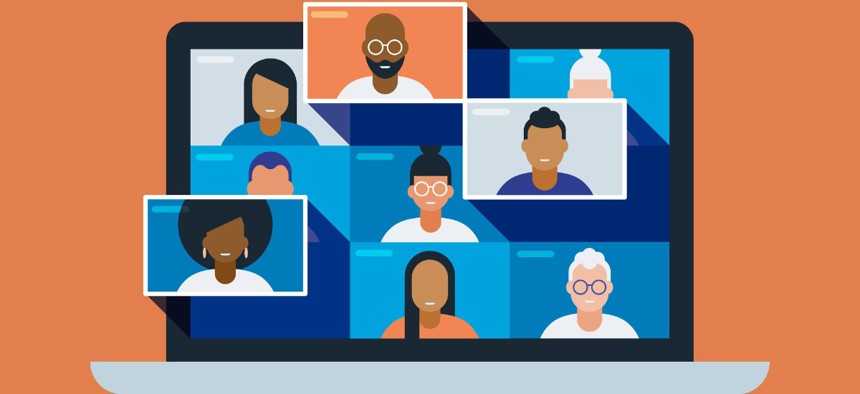 With telework here to stay, federal agencies are investing energy and resources into long-term IT infrastructure solutions rather than quick fixes.
In the weeks after most U.S. states instituted lockdowns to minimize the spread of COVID-19, various industries transitioned office-based employees to working from home at record speeds. Government agencies specifically worked tirelessly to extend telework capabilities far beyond the then-established norms, while also securing the government data and applications that were being accessed from home networks and devices. Today, more than one year later, many government employees remain working from home, confirming that a persistent hybrid work model can be sustained. As it turns out, the compressed digital transformation timeline that 2020 forced on us resulted in highly effective support for the modern workforce.
Playing Catch Up with the Private Sector 
It's no secret that IT capabilities are advancing faster than ever before. Unfortunately, public sector organizations and government agencies do not have the flexibility to run trial-and-error IT models in order to deliver on their respective missions.  
Unforeseen costs associated with public cloud models have shown that relying fully on such platforms is, unfortunately, not a cost-effective long-term solution. As a result, agencies are expected to follow their private-sector counterparts in terms of moving towards a hybrid and multicloud model. According to Nutanix's 2020 Enterprise Cloud Index (ECI), 43% of public-sector respondents now use a mix of private and public clouds, allowing for increased flexibility and cost savings, helping agencies quickly adapt to the rapidly changing environment spurred by the pandemic. 
Supporting a Dispersed Workforce Long-term
A recent Government and Election Cybersecurity survey found that 42% of federal, state and local government employees are still working from home. A separate report shows that 85% of federal agencies are planning to continue to support a high percentage of remote workers after the pandemic is over. With this expectation, technology innovation within the public sector will need to remain a top priority. A modern IT infrastructure is an important step but a focus on a Zero Trust security strategy to limit access to the IT resources each user needs to perform their job, and DevSecOps practices to ensure secure application development, will help set government agencies on the right path to help support remote work long term.
Additionally, a desktop-as-a-service (DaaS) solution, like the one implemented by Maryland Lottery and Gaming to help implement telework in just one weekend, may be a practical solution by offering users access to applications and data in a more flexible and dynamic way. The solution helps enable telework at an expedited rate while maintaining compliance to security regulations, and puts a focus on mobility and access from non-government devices–something that was especially uncommon, but now necessary, in the public sector.
Priorities for Federal Agencies
With telework here to stay, federal agencies are investing energy and resources into long-term IT infrastructure solutions rather than quick fixes. According to the ECI, federal government respondents' plans call for more than doubling their hybrid cloud usage within one year and growing deployments to about 74% penetration within five years, up from about 14% today. These advancements will not only support workers but will also help federal agencies better serve customers and constituents. As agencies focus on adopting a Cloud Smart strategy, it will be important for IT to look for hybrid and multicloud solutions that will deliver the flexibility and security necessary to navigate the likely changes in store for the coming years.
As federal and public sector IT leaders look to the future, investing in modern IT solutions and embracing the new way of work will be key priorities. To be successful in mission goals and day-to-day operations moving forward, looking back to the way things used to be done—even as recently as 2019—will not provide the right roadmap. Suffice to say, the future of work is now, and a focus on innovation will help agencies meet modern demands.
Chip George is the vice president of public sector sales for Nutanix.