5 Rules to Keep Breaking Barriers in Government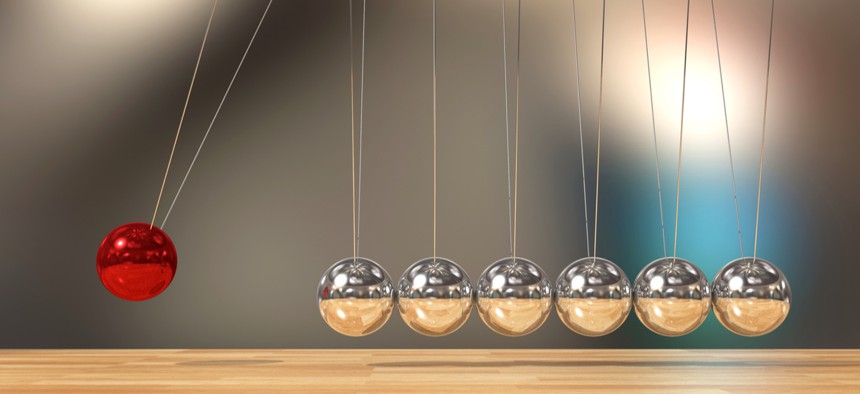 The pandemic disrupted how agencies conducted business but federal leaders can harness that momentum. 
From Cloud Smart to the Federal Data Strategy, federal agencies have been on a path to rationalize, modernize and deploy emerging technologies to advance their mission. But COVID-19 changed that overnight. Instead of organizations tracking to their original digital journey, many needed to undergo a flash transformation to meet critical mission needs.
This unexpected catalyst for digital maturity was disorienting but it also provided technology leaders with the license to overcome legacy barriers to introduce new solutions and innovation to serve citizens, warfighters and the federal workforce. What may have hindered these institutions in the past—and old adages of "this is how we've always done things"—no longer applied during the pandemic. 
As we reimagine digital transformation for the future, we can learn from a year of tremendous digital agility in the public sector. To harness our momentum and accelerate innovation in the long term, here are five rules for technology leaders on the road ahead.
1. Plan for failure—don't just tolerate it.
Since March, federal leaders have had to make significant moves without knowing what the next day would hold. Mission needs continue to change rapidly and nonetheless, sensitive digital products and services have launched, such as the IRS's Get My Payment app that allowed Americans to track their stimulus checks; or the Treasury Department's updates to USAspending.gov to accurately track and capture new spending data across government, with visualizations and data downloads for the public to ensure transparency and accountability. This environment has forced agile practices that encourage cycles of production, failure, and redesign—with a sentiment that it's better to go out with a product and make an impact, rather than wait for a perfect solution at the starting line. When organizations harness (and don't simply tolerate) failure, teams can stand up rapid prototypes, test them in the real world, and then spiral back for continuous improvement. Ideally, those solutions are open and modular by design so the innovation cycle can happen with no disruption to the broader infrastructure.
2. Pursue radical change through "government as a platform."
In this time of extreme need, we have seen an almost wartime-level coordination between agencies. Federal organizations unlocked siloes to collaborate and tackle broader initiatives. Just consider the magnitude of data that are shared from multiple agencies to track coronavirus infection rates or the cross-department information and logistics required to deliver stimulus funds. This collective approach to innovation is a model for creating shared solutions and products for government-as-a-platform. Over the long term, common technical challenges, such as security and access control, could be centralized and then provided as a service to individual organizations. It's a win-win: Solutions are extensible and efficient, and agencies can focus on high-value activities that impact the mission.
3. Narrow your attack surface with modern processes and architectures.
The shift to remote work necessitated that sensitive and classified work be conducted through collaboration technology—but agencies can't use systems that they can't trust. While adversaries seek new entry points into national systems, agencies should continue to build contemporary data architectures, through DevSecOps practices, to achieve systems that are hardened and transparent. Cloud demonstrates why this is so pressing: Modern cloud environments leapfrog past on-premises software when it comes to visibility into system activity, and there's no comparison when it comes to its automation of security monitoring. The ancient fear that IT modernization could disrupt the mission is no longer relevant; in order to decrease the attack surface, organizations must modernize systems and processes. And with governance to oversee the digital landscape, agencies can achieve advanced enterprise visibility and control across systems.
4. Reimagine your workforce of technical talent.
With this imperative for increasingly modern services and systems, we can't expect the same workforce to operate in a completely new digital environment. Agencies must navigate new question: How should they deploy technical talent against modernization initiatives? Is there training and upskilling that would be valuable for employees? As highly skilled technical talent becomes harder to come by, leaders must consider alternative operating models, from distributed delivery teams to entirely remote development of services for classified environments. Ultimately, successful modernization efforts and accelerated digital maturity require an integrated solution for training, change management and employee engagement.
5. Put humans at the center of every design decision. Hundreds of millions of people are now accessing critical services and benefits from their phone or desktop, making human-centered design critically important. Because of COVID-19, many Americans can't just walk into a local office to get what they need, whether that's tracking their stimulus checks or getting paperwork to bury a loved one. We've seen incredible shifts with services such as Recreation.gov, which allows people to choose visitation windows to avoid crowds at America's public lands, along with contactless entry. From streamlined and resilient websites to optimized contact centers and AI-powered chat support, organizations can no longer separate customer experience and service design. In fact, customer experience metrics need to be an integrated piece of total performance assessment, with enterprises ready to pivot based on real-time feedback. We're seeing activities like social listening become even more important to help pulse customer sentiments and respond to concerns rapidly.
From one digital leader to another: Over the past few months, you've knocked down barriers to modernize and evolve your organization. You've seen progress that otherwise could have taken years, and now it's time to maintain and build upon that momentum. Where you accelerated new capabilities out of necessity, circle back to ensure those capabilities are intelligent, automated, and experience-driven. And—perhaps most critical for technology leaders, including myself—explore new ways to use the modern tools at our disposal to keep the workforce resilient and productive.  
No great project ever plays out the way you expect, and 2020 is a metaphor for that. As I look back at the year, I'm inspired by countless government innovations—from new digital twin technology to virtual reality remote training environments—and I am proud of my colleagues who played a role in them. We've all been changed by this experience and there's never going to be a pendulum swing back to our "original plans." As we each find the right balance of transformation in the coming months, let's take these lessons forward.
Julie McPherson is an executive vice president and leads Booz Allen's digital business.