What It's Like to Be a Remote Intern at a Federal Agency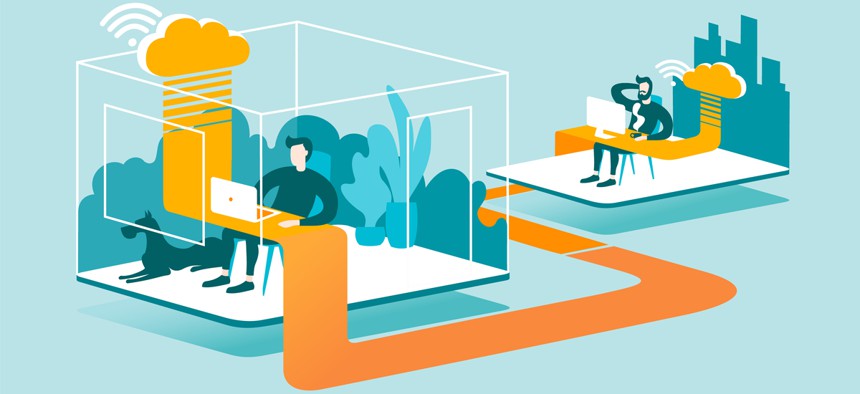 A few weeks ago I wrote about how the government was offering internship programs to talented students virtually through its Virtual Student Federal Service program. The VSFS program has been running since 2009, but really ramped up this year in response to the pandemic. For many years, federal agencies also offered more traditional, in-person summer intern programs to brilliant college students looking to explore careers in government. When the pandemic struck, it all but eliminated those programs this year.
But all was not lost. A few internship programs found a way to transition to a virtual footing. One such program is run by The Fund for American Studies, or TFAS, an educational non-profit based in Washington, D.C. that has hosted interns for more than 50 years in the nation's capital. With agencies shuttering offices due to the COVID-19 virus, TFAS was able to work with the departments of State, Transportation and Agriculture to enable scheduled in-person interns to complete their summer internships virtually.
Joshua Voogd and Sarah Stevens are two college students who recently completed virtual internships. They agreed to talk with Nextgov about their experiences working virtually with the federal government.
Voogd is a 21-year-old senior at the University of Nebraska Omaha. He had already worked with TFAS on an in-person internship program in Washington last year, and was looking forward to gaining more experience as a policy researcher with Transportation's Maritime Administration this year. The virus upset those plans.
"When the first reports of COVID-19 came in, I was concerned," he said. "Once my university went completely virtual, I knew that this summer would not go as originally planned."
TFAS arranged for his internship with the Maritime Administration to continue virtually. And the agency put his research skills to great use. He got to strike back at the virus that had upended his summer plans when he was tasked with creating a research paper about the best technologies and policies that the maritime industry could use to fight the pandemic and protect its workers. He conducted many hours of research and regularly spoke with his supervisors to ensure that his virus paper and other assigned research projects were proceeding on schedule.
"It was incredible to put my research skills to use in a way which would improve the maritime industry," Voogd added.
Stevens is a 20-year-old student from Chapel Hill, North Carolina. She was looking forward to living and working in Washington over the summer as an intern for the State Department's Office of Central European Affairs. Although she was initially disappointed that her physical internship was cancelled, she was thrilled to learn later that it could continue virtually.
At first, working virtually was a new concept for Stevens, but she quickly overcame her initial reservations. "It was a little more challenging working virtually because I didn't talk to coworkers face to face every day, but besides that it was probably about the same," she said. "We communicated and sent project notes using email, and also had weekly meetings through Cisco Webex."
Stevens worked on many projects over the summer, and was also tasked with virtually attending conferences, seminars and think tank type events regarding Central European countries. She would then report on those events to her supervisors.
Because his laptop was his lifeline back to Washington, Voogd was mostly concerned that he might experience a technical issue that would prevent him from performing his job in terms of working virtually. "If my laptop had an issue, I risked not being able to do the work or meet with my supervisors until it was resolved," he said. "So I found it useful to use cloud sharing, and a tablet I could use to provide redundancy should my laptop have any problems."    
Both Voogd and Stevens enjoyed their virtual federal service, and feel that it helped both their careers as well as the agencies where they worked. 
"The work I did was meaningful and greatly appreciated by my supervisors," Voogd said. "I made great connections, gained valuable experience that will apply to my career goals and advanced my research skills. I also learned how the complex structure of a federal agency interacts within itself to achieve common and differing goals, and how interconnected many of the federal agencies are."
"I found my experience very rewarding," Stevens said. "I learned so much about Central European countries and the foreign service officer career path. I would definitely recommend a virtual internship to others."
Voogd added that he is extremely grateful to both TFAS and the Maritime Administration for helping to transition his internship to a virtual platform when the need arose. "The response to COVID-19 required some extraordinary measures," he said. "Extraordinary circumstances require one to rise to the challenges presented. The virtual internships provide a great opportunity, especially for those who would not be able to take advantage of an in-person experience."
John Breeden II is an award-winning journalist and reviewer with over 20 years of experience covering technology. He is the CEO of the Tech Writers Bureau, a group that creates technological thought leadership content for organizations of all sizes. Twitter: @LabGuys