NASA celebrates winners of second MarsXR virtual reality astronaut training competition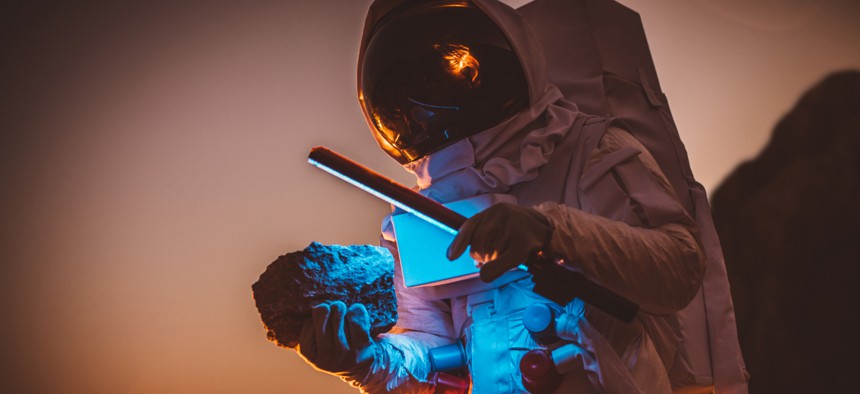 Most of the winning scenarios enabled players to be scored like in a video game based on their crew's effectiveness in completing each challenge.
NASA has revealed the winners of the second MarsXR Challenge, a crowd-sourced competition designed to create realistic training simulations and scenarios that could one day be used by astronauts preparing for human-lead missions to Mars and the moon. Three teams shared the $70,000 top prize this year, which focused on playable scenarios involving extravehicular activity on the surface of Mars.
This was the second year of the competition, which is a collaborative effort between NASA, HeroX, Buendea and Epic Games. Game developer Buendea is involved because of NASA's extensive gamification work, and also because many of the winning scenarios this year almost seem like video games in that they involve exciting and unexpected scenarios taking place on Mars. Most of the winning scenarios also enable players to be scored like in a video game based on their crew's effectiveness in completing each challenge. Epic Games contributed its Unreal Engine 5 graphical engine, which allowed for the creation of an incredibly realistic environment that mimics over 400 square kilometers of Mars almost perfectly. This includes full Martin days with bright orange hues of sunlight and cold nights filled with deep blues seeping across the landscape as the sun sets. The testbed also has realistic weather conditions happening across hundreds of square miles of virtual Martian terrain.
While the original challenge last year was more of a proof of concept, this year was more about creating realistic scenarios that future astronauts could actually one day use for training. For example, at a press conference last week with the winning teams, NASA officials suggested that the new scenarios might eventually be integrated with the Crew Health and Performance Exploration Analog — or CHAPEA — taking place at the Johnson Space Center in Houston. The CHAPEA exercise has a crew living and working in a 3D printed environment that mimics a Mars habitat. NASA officials suggested that scenarios like the ones created in the recent MarsXR challenge could be used with VR headsets to allow CHAPEA volunteers to journey outside their habitat to perform various simulated missions on Mars.
The MarsXR challenge this year was divided up into two parts. The first challenged participants to create virtual reality scenarios by describing them using storyboards. The winning scenarios of part one were then submitted for use by teams in the second part to be made into actual, playable VR scenarios. All told, there were 3,700 participants this year divided up into 272 teams. 
"We are thrilled by the growing success of NASA's second challenge to support extravehicular activity research for the surface of Mars. The dedication and creativity of our innovator community have exceeded all expectations in this challenge," said HeroX Vice President of Customer Success Kyla Jeffrey. "Our ongoing collaboration with NASA boasts a series of remarkable competitions that will continue to push the boundaries of what's possible."
The three winning teams this year included Team Overheat, which also won the challenge last year. They were joined by Team SpaceLux and Nataliia Savchenko's Team. At the press conference last week, all three teams shared YouTube movies of their VR scenarios in action.
The winning scenario from Team Overheat this year centered around an understandable problem here on Earth: a broken down vehicle. However, if a rover breaks down on Mars, it can quickly become a life-threatening situation depending on how far away it is from a safe habitat. In the Team Overheat mission, crews must quickly load up repair tools and mount another vehicle for a quick rescue. Crews are rated on how efficiently they are able to get the broken down vehicle back up and running.
The winning entry from Nataliia Savchenko's Team is much more peaceful. It involves having astronauts use some of the realistic tools they will be equipped with on a real Mars mission in order to look for interesting rock samples that have been previously spotted by drones or other surveillance tools. And because the Unreal Engine 5 is so realistic, it even involves having the rock collecting crews compare photographs of the area where the targeted samples reside on their tablets with the actual terrain to confirm their location. That is only possible because of the realistic nature of the VR landscape. Crews in the rock collection scenario are rated on their accuracy and the speed of their collection process.
The final winning entry from Team SpaceLux is more of a mini-scenario that is designed to be inserted into any larger mission to give astronauts a bit of a dangerous surprise. It involves a crew member whose spacesuit springs multiple leaks. With precious oxygen quickly draining out of their suit, it's up to the rest of the crew to find and repair the leak before their partner passes out or dies from a lack of oxygen. At the press conference, members of Team SpaceLux said that their scenario presented a realistic situation that can happen at any time, and which future astronauts need to be prepared to face. 
For example, imagine going out on a rock-collecting mission like the one presented by Nataliia Savchenko's Team, and then experiencing a life threating emergency, something that is a constant danger on a planet like Mars. According to Team SpaceLux, being able to experience something like that in a VR scenario will make future astronauts more prepared for unexpected situations.
Both NASA and HeroX representatives said that the Mars challenges would likely continue in the future, although details about next year's challenge were not yet available. NASA officials did say that they liked how this year's Mars challenge was configured into two tightly integrated parts mutually supporting each other, and that future challenges would likely be similarly designed.
NASA has other non-Martian challenges ongoing right now as part of their NASA Tournament Lab. For example, one with a $345,000 top prize asks the public for suggestions about how to better manage vegetation growth clogging irrigation canals, while another with a $30,000 top prize is looking for ways to make commercial airplanes run more efficiently with less pollution.
John Breeden II is an award-winning journalist and reviewer with over 20 years of experience covering technology. He is the CEO of the Tech Writers Bureau, a group that creates technological thought leadership content for organizations of all sizes. Twitter: @LabGuys