Bipartisan House duo looks to extend quantum tech legislation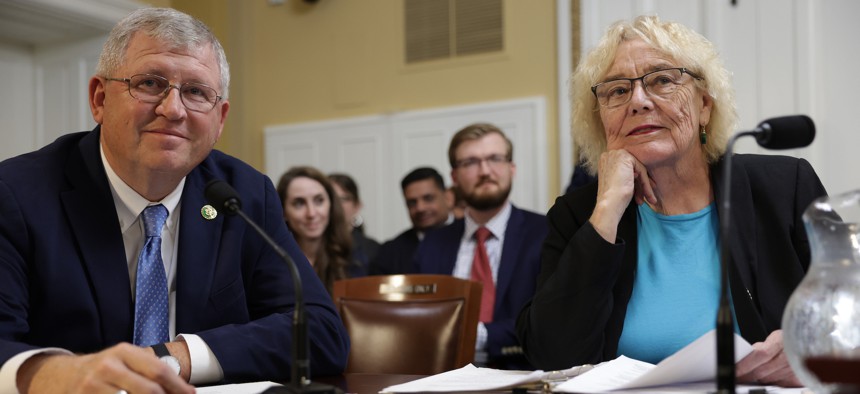 The chairman and ranking member of a key House committee are looking to reauthorize federal support for quantum computing research for five more years.
A bill reauthorizing the National Quantum Initiative Act is set to be introduced this Friday by Reps. Frank Lucas, R-Okla. and Zoe Lofgren, D-Calif. — the chair and ranking member of the House Committee on Science, Space, and Technology, respectively. The legislation, which extends support for quantum research and development through fiscal year 2028, focuses on global competition and expanding the scope of research to push quantum technology applications into modern use cases, according to a draft of the bill obtained by Nextgov/FCW.
First signed into law in 2018, the legislation authorized significant federal funding towards advancing quantum information sciences research and development in the U.S. It granted agencies — including the National Institute of Standards and Technology, the National Science Foundation, and Department of Energy — with new programming to support more advanced applications research. 
The reauthorization draft prioritizes international research partnerships, but it also specifically directs the White House to develop a strategy to both enhance this cooperation and maintain competitiveness with adversarial nations China and Russia. 
"Reauthorizing and updating NQIA's quantum programs is critical to ensuring that the United States' policies reflect the advances made in quantum information science, engineering and technology since the passage of the original act," a summary of the bill seen by Nextgov/FCW reads. "A reauthorization is also necessary to ensure the quantum industry and ecosystem has access to a robust, educated workforce and the U.S. is partnering with allied nations to bolster quantum research and development to counter quantum advancements by our competitors."
The bill includes quantum testbeds at NSF to support translational research for near and medium-term quantum sciences applications. NSF must also document the results from this testbed research and brief Congress on activities and outcomes, focusing on quantum technologies with potential for government use. 
NIST will also be tasked with new research priorities, like executing R&D and demonstration projects; working on the standardization of quantum technology applications; and developing measurements of comparative performance and progress of quantum technologies, including technology readiness assessments, in addition to establishing supporting infrastructure. 
Leadership at NSF, NIST and Energy will also participate in selecting an external entity, such as a non-profit or university, to establish the Quantum Reskilling, Education and Workforce Coordination Hub. The hub is intended to  address workforce challenges and foster a strong quantum science-related STEM curricula in academic institutions. 
Under the legislation, NASA is added to the list of agencies that will benefit from NQIA funding to carry out both basic and amplified research in quantum information sciences. 
NASA will be required to submit a strategy for its research activities and establish its own Quantum Institute focused on space and aeronautics applications of quantum science. 
"The NASA institute will meet requirements for existing NSF and DOE centers," the summary reads. 
Industry players are optimistic about the language used in the House's draft bill, specifically in expanding the focus of quantum technologies with more near-term commercial applications. 
Allison Schwartz, government relations and public affairs leader at quantum software company D-Wave, said that the distinctions between near-, mid- and long-term applications will help researchers identify which technologies could sooner be applicable and deployed in current use cases. 
Lawmakers on the Science Committee "have come a long way in expanding the focus of the NQI programs to be inclusive of all the different technologies, work with commercially available quantum technologies through partnerships," Schwartz told Nextgov/FCW. "There's obviously room to grow with any piece of legislation and some clarity that still needs to be addressed, which hopefully will be addressed as a committee markup process."
The draft bill codifies the Quantum Economic Development Consortium to support the NQIA's broad workforce development and stakeholder outreach goals.  Established by the initial 2018 version of the NQIA and with support from NIST, QED-C communicates with stakeholders across the public and private sectors on a domestic and international level to promote quantum information sciences research innovation.
"I think Congress is making clear to other parts of government that QED-C is not just able to support NIST or the Department of Commerce, [but] it's got the capability, and Congress feels is a resource, that other parts of government should also be sort of leveraging and engaging with," Celia Merzbacher, the executive director of QED-C, told Nextgov/FCW.  
Merzbacher echoed Schwartz's perspective on the draft bill redefining the scope of the NQIA beyond basic quantum science research to translating results into practical applications. 
"Quantum in some ways is…a poster child for an emerging technology today," she said. "So it's very timely for this bill to be introduced and for Congress to be looking at how to support quantum in a fresh way."