How the US is going Dutch on quantum research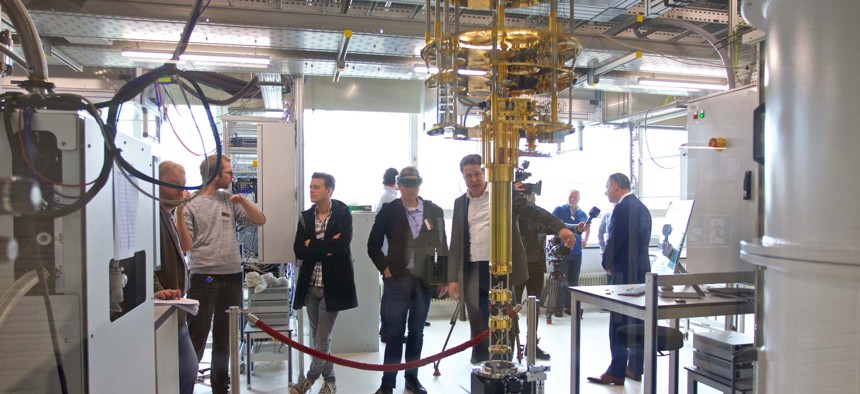 One of many recent international partnerships on quantum sciences, the U.S.-Netherlands collaboration has led to advancements in post-quantum cryptography and standards discussions.
Across five days and six cities, the Netherlands played host to an eclectic event focused on the various advancements and potential within the quantum computing field. The series of crowded talks and networking opportunities in mid-June played like a miniature Coachella for computer science and physics professionals. But the excitement here was directed at one of the most consequential emerging technologies currently being researched.
The Netherlands has worked hard over the last several years to establish itself as a leader in the quantum field. The Quantum Meets conference hosted by Dutch nonprofit Quantum Delta stands as an example of the kind of excitement that such a research investment can draw.
Mirroring the event's cosmopolitan attendance and atmosphere, international partnerships and agreements have expanded alongside advancements in the quantum information sciences arena, where geopolitics are closely intertwined with scientific advancement. 
Of the U.S.'s many transatlantic partnerships, the collaboration with Dutch allies stands out. The nations formally inked a quantum partnership in February of this year, following several similar agreements with France, Australia and Switzerland.
"Quantum is not going to develop by itself on an island, you need international collaborations," said Ulrich Mans, the strategic partnership lead for Quantum Delta. "It has always been that way for quantum science."
A unique funding structure
The Netherlands has constructed a particularly strong national program for quantum research. It began when the country's Ministry of Economic Affairs awarded Quantum Delta public funds to execute the government's National Agenda for Quantum Technology. 
Beginning as an organization searching for seed funding in 2020, Quantum Delta was first granted 23 million euros by the Dutch government. After assembling a small team to operate as a foundation and creating a proposal for a larger grant, Quantum Delta received a further 615 million euros from the country's National Growth Committee to be dispersed over seven years, for the sole purpose of forming the country's quantum sciences landscape and strengthening its international presence. 
This venture made the Netherlands the first country in the world to delegate the execution of its national quantum research program to an entity outside of the government, in this case, a nonprofit.
Quantum Delta's unique approach keeps the Netherlands nimble in how it grows its quantum research and development ecosystem.
"Most of the countries, when the government makes a national quantum agenda… they also have funding for it, but the funding generally flows to existing organizations," Mayra van Houts, a technology policy analyst with Quantum Delta, told Nextgov/FCW. "In the Netherlands, we did it differently."
She added that the structure of Quantum Delta helps make strategic decisions to advance the Netherlands' National Quantum Agenda, with five hubs focusing on different QIST research topics. The principal ambition underpinning these hubs is furthering the collaborative effort in quantum technology research and development in the Netherlands — between government, academic and industry teams — with an ultimate goal towards technology scalability and commercialization.
To advance this goal, one of Quantum Delta's key pillars is to lead with the creation of international partnerships.
"International connections are at the heart of global technology," Mans said. "The young quantum economy needs to find new ways for tackling issues such as nurturing new talents, defining joint benchmarks for hardware and software and assessing today's high tech markets."
The U.S. has already benefited from this approach. In 2022, the National Institute of Standards and Technology selected four algorithms as successful finalists for its post-quantum cryptography implementation program. Of these four, three had significant help from Dutch researchers. SPHINCS+ was developed with participation based at the University of Eindhoven, and two others, CRYSTALS-Dilithium and CRYSTALS-Kyber, were also developed with assistance from Centrum Wiskunde & Informatica in Amsterdam, and all three featured assistance from Radboud University in Nijmegen. 
University of Eindhoven and Centrum Wiskunde & Informatica are both part of Quantum Delta's consortium of affiliated research hubs.
"You could argue that Dutch expertise is at the heart of what the U.S. might be doing soon in terms of creating post-quantum cryptography standards," Mans said. 
NIST recently released draft standards for the three algorithms, which are expected to be ready for use in 2024.
Collaborative standards setting
Engagement between Dutch and U.S. researchers is slated to extend beyond post-quantum cryptography. Mans noted it is still too early in the research and development process of quantum computing hardwares and softwares to have technical dialogues on standards development. 
Continued transatlantic collaboration can, however, help nations benefit in future standards development, mainly through learning from past — and current — experiences in standardization within emerging technologies.
"Standardization is sometimes seen as a boring topic," van Houts said. "But it's actually really important, and who has the best standards has a really big market advantage."
Preparing for PQC, however, remains a priority area for the U.S. government, according to Jalal Mapar, the senior advisor for emerging technologies at the Department of Homeland Security's Science and Technology Directorate.
"The Department is always interested in collaborating with our international partners, including the Dutch, to collectively understand the impacts of PQC and be ready as quantum technologies mature," Mapar told Nextgov/FCW. "Several countries are investing in the field of QIST and many are making significant contributions to the research and development needed to bring the QIST to fruition."
Mapar added that Dutch allies have developed other innovative programs focused on quantum communications and quantum memory research and development, among others, that may result in further collaboration. 
The ongoing U.S.-Dutch partnership has also manifested in other informal transatlantic consortiums. Mans said that several informal quantum technology-centric meetings between officials from Quantum Delta, the U.S. National Institute of Standards and Technology, the Quantum Economic Development Consortium and several Nordic countries raised the possibility of a new collaboration specifically aimed at bringing government and industry together to address these challenges and cultivate strong international engagement. 
He added that these collaborations also serve to help the U.S. and Dutch partners withstand geopolitical headwinds and guarantee a strong supply chains between allied nations. 
Charles Tahan, director of the White House's National Quantum Coordination Office, told Nextgov/FCW that the Biden administration is prioritizing international collaborations in the QIST field. Several meetings between delegates from the Netherlands, Finland, Sweden and Denmark have furthered previous bilateral commitments, he said. 
"International cooperation has been an important part of the administration's work to ensure continued U.S. leadership in quantum information science," Tahan told Nextgov/FCW. "The NQCO remains committed to working with international partners to advance QIS innovation, while also protecting national security."
These nations, among others, were highlighted as international partners of interest by the National Science Foundation in a July 2022 letter outlining the agency's intent to spearhead domestic and international research in quantum information science. 
For Mans, capitalizing on this momentum in quantum technology innovation hinges on moving in international lockstep on standards development and export control for emerging systems in QIST, in a larger bid to help all nations advance. 
"America has great interest in having Europe as large [an] ecosystem as it is the U.S.," he said. "You don't want to play the competition card."