Launch of First 3D-Printed Rocket Included Innovative NASA Alloy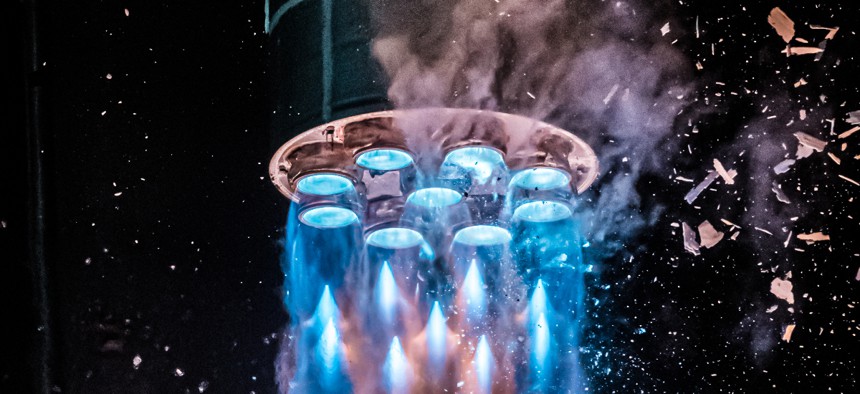 The alloy could be used in future missions to the moon and Mars and can withstand high temperatures while reducing the weight and cost of components.
Relativity Space's Terran 1 became the first 3D-printed test rocket to launch, featuring an innovative copper alloy from NASA that could be used in future missions, according to an agency announcement on Tuesday.
The 100-foot-tall and 7.5-foot-wide rocket was made entirely with 3D-printed parts, the use of which helped to enhance capabilities and reduce costs, the announcement noted. The rocket included nine engines made from a copper alloy, which experienced temperatures that almost reached 6,000 degrees Fahrenheit. 
The copper-based alloys—created at the agency's Glenn Research Center as part of the Game Changing Development program—are called Glenn Research Copper, or GRCop. It is a combination of copper, chromium and niobium. 
GRCop is designed for several features: high-strength; high thermal conductivity; high creep resistance to allow for more stress and strain in high temperatures; and good low cycle fatigue to stop materials from failing in temperatures hotter than 900 degrees Fahrenheit. This enables the GRCop alloy to withstand temperatures 40% higher than traditional copper alloys, thus having higher performance components and reusability. GRCop is meant to be used in combustion chambers for high-performance rocket engines.
The GRCop alloy family was developed by David Ellis when he was a NASA-supported graduate student during the space shuttle era. Ellis, now a materials research engineer at the agency, has continued to mature the alloys and their applications over the years. 
"At the time, space shuttle main engine combustion chamber liners were typically replaced after one to five missions," explained Ellis. "Our research was able to show that GRCop-84 would easily meet the goal of 100 missions between maintenance service and 500 missions of engine life."
For example, the most recent version GRCop-42 uses several additive manufacturing methods to create one piece and multi-material combustion chambers, as well as thrust chamber assemblies for rockets. These have improved the performance and reduced the weight and cost of thrust chamber pieces. 
According to NASA, the GRCop alloy works well with additive manufacturing methods, such as laser powder bed infusion—where a 3D computer model is cut into thin layers digitally, and a powder bed machine acting as a printer starts to spread and fuse the powder layers together on top of each other, eventually creating one piece.The formed material is strong like forged metal and can be used to make finely detailed parts, like nozzles.
GRCop can also use directed energy deposition, which uses a laser to make a melt pool of the metal, then powder is blown into the pools and cooled to create a solid material. A robot's 3D motion directs the building process. This can create bigger pieces than the laser powder bed fusion, but with less details. 
"NASA takes on the development risk and matures the process from early material and process concepts through certification," Paul Gradl, principal engineer at NASA's Marshall Space Flight Center, said. "This infusion of GRCop-42 alloys into commercial space is another great example of how NASA-led innovations advance industry capabilities and contribute to America's growing space economy."
NASA provided technical expertise to Relativity Space under a reimbursable Space Act Agreement to propel the GRCop-42 from development into a flight-ready product to be used to launch the Terran 1. 
According to NASA, this has demonstrated that the GRCop alloys could be used in future missions to the moon and Mars.