DOD Working on Prototype of Mobile Microgrid for Arctic Operations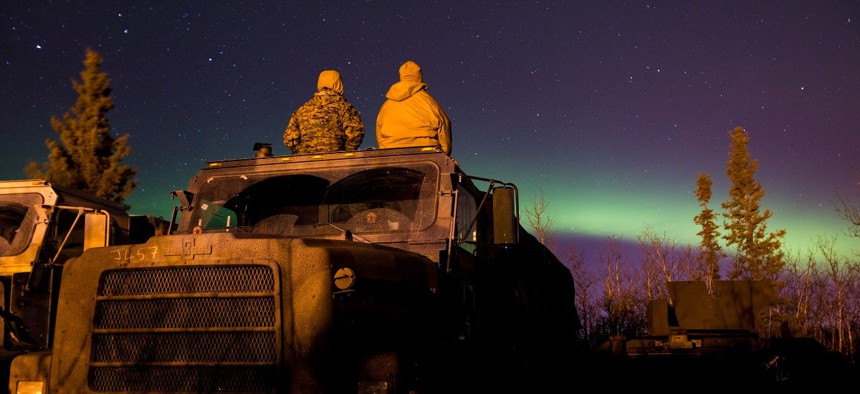 The Pentagon's Defense Innovation Unit announced that it is partnering with MITRE and 10 Defense Department components to develop a microgrid capable of working at temperatures as low as -60 degrees Fahrenheit.
The Defense Department's Defense Innovation Unit—or DIU—announced on Tuesday that it is partnering with the MITRE Corporation and a host of DOD offices and agencies to prototype a mobile microgrid that can be used by U.S. military forces in extreme Arctic conditions "for multiple end-use defense platforms."
DIU said in a press release that the Arctic Grid Energy Solutions—or AGES—project "will increase DOD's demand signal for commercial cold region batteries, reduce barriers for the commercial sector to work with the DOD and pave the way for future cold region microgrids with battery advancements to be seamlessly integrated and adopted within military platforms." 
The unit said the AGES project is looking to create "a standardized mobile microgrid unit with battery storage capabilities" that is capable of withstanding temperatures as low as -60 degrees Fahrenheit. 
A MITRE spokesperson told Nextgov that the organization is "providing system integration and technical oversight to support the design, development and deployment of the AGES operational energy microgrid."  
In addition to MITRE, DIU has teamed up with 10 DOD military commands and offices on the AGES project, including: the U.S. Northern Command, or USNORTHCOM; the North American Aerospace Defense Command, or NORAD; the U.S. Army Engineer Research and Development Center's Construction Engineering Research Laboratory; and the Office of Naval Research's cybersecurity oversight team. 
"The goal is to have a reliable and efficient micro-grid that is scalable and transportable, allowing various uses in supporting domestic and international missions," NORAD and USNORTHCOM Commander Joel McMillan said in a statement. "The AGES system aims to provide reliable and efficient power to Arctic base camps, special operations, radar stations, communication nodes and other critical Arctic applications." 
DIU said that DOD awarded a contract to HDT Global to develop a prototype of the mobile microgrid unit that is "contained within an energy efficient shelter," "adaptable to extreme Arctic weather conditions" and can be "rapidly deployed for expeditionary missions."
"The AGES prototype is expected to be tested in the fall of 2023 and to be part of the 2024 Arctic Edge Exercise in Alaska," McMillan added.
DIU said the project conforms the requirements outlined by President Joe Biden's National Strategy for the Arctic, which was released on Oct. 7 to help guide the United States' approach in arctic regions and includes a focus on "enhancing the capabilities required to defend our interests in the Arctic, while coordinating shared approaches to security with allies and partners and mitigating risks of unintended escalation."
DOD previously showcased the AGES project at the 2022 Pentagon Energy Expo in September, alongside a number of other energy prototype initiatives the Pentagon is pursuing. In an event slide describing the project, DIU said "high performance microgrids with energy storage capabilities for extreme cold weather are required" for the U.S. military "to remain competitive in the Arctic."