Treasury Sanctions Cryptocurrency Mixer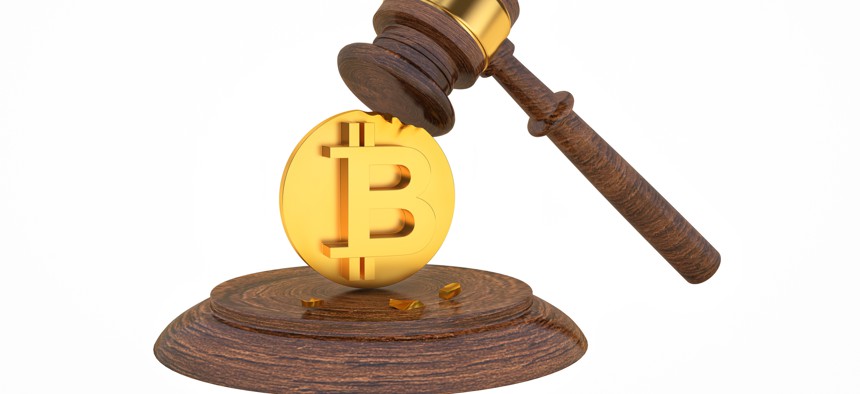 The online digital money platform has proven to act as a haven for cyber criminals looking to launder illegal cryptocurrencies.
The Department of the Treasury announced new sanctions on a digital currency mixer that allows owners of potentially stolen or illegal cryptocurrencies to launder its assets with other currencies to become unidentifiable.
Announced on Monday, the virtual currency mixer Tornado Cash faces new sanctions from Treasury's Office of Foreign Assets Control. Tornado Cash, founded in 2019, has been used to launder over $7 billion worth of virtual currency, including $455 million stolen by the North Korean hacking organization the Lazarus Group.
The online platform also laundered over $96 million in funds from the Harmony's Horizon Bridge bitcoin hack in June 2022, as well as about $7.8 million from a hack on the crypto firm Nomad in August 2022.
"Today, Treasury is sanctioning Tornado Cash, a virtual currency mixer that launders the proceeds of cybercrimes, including those committed against victims in the United States," said Brian Nelson, the under secretary of the Treasury for Terrorism and Financial Intelligence. "Despite public assurances otherwise, Tornado Cash has repeatedly failed to impose effective controls designed to stop it from laundering funds for malicious cyber actors on a regular basis and without basic measures to address its risks." 
While digital currency mixers aid the privacy of cryptocurrency owners and transactions, the platforms are particularly useful to launder illicit digital assets and transactions.
Given the popularity of laundering through mixers, Treasury sanctioned Tornado Cash pursuant to Executive Order 13694, which targets online activity that poses a threat to the U.S.'s national security and financial stability. 
Following Tornado Cash's sanctions, all property and interests of Tornado Cash residing in the U.S. or in possession by U.S. citizens are now blocked and have to be reported to the OFAC. The release also added that all other cryptocurrency mixers should be considered as high-risk and dangerous to the financial wellbeing of end users.
"Criminals have increased their use of anonymity-enhancing technologies, including mixers, to help hide the movement or origin of funds," the release said. 
The sanctions are the latest play by the federal government to instill more regulation to the volatile digital asset marketplace. Lawmakers in Congress, as well as President Biden, have been working to apply more federal oversight into the cryptocurrency industry as participation increases.