NASA Wants to Expand Data Sharing With Space Force and Commercial Partners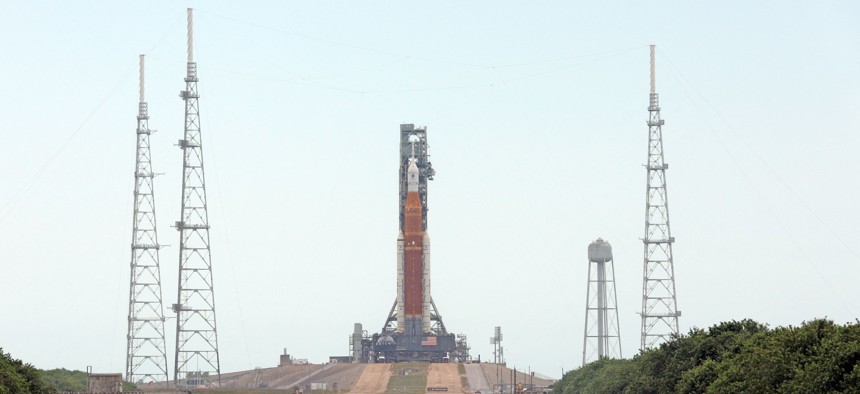 The space agency's chief data officer explained the importance of making information exchanges a more consistent part of NASA culture.
NASA wants to expand its data sharing programs with commercial and government partners like Space Force to increase the use of data as a strategic asset, according to the agency's chief data officer. 
Ron Thompson, who serves as NASA's CDO and deputy digital transformation officer, cited  the agency's Artemis project to return astronauts to the moon's surface. Work on the project's massive rocket is currently undergoing final testing before its launch from the Kennedy Space Center in Florida is a prime example of what can be accomplished from information sharing with key stakeholders. 
The rocket's components are designed and manufactured by NASA's commercial partners, "so we do need to exchange engineering information," he said at an AFCEA event on data management held June 9. "We do need to exchange operational data for these components as we integrate them and stack them."
The agency's CDO also said he met with a team from Space Force last year to explore how to collaborate and better share operational data to make information exchanges a more consistent part of NASA's culture and relationships with its partners. 
In 2014, NASA established the Collaborations for Commercial Space Capabilities (CCSC) initiative to develop new space-related projects with the private sector, and it  has led to robust partnerships with the likes of SpaceX and other organizations. 
NASA's information sharing programs with commercial partners around the Artemis project and other human exploration initiatives mainly focus on engineering, operations and safety data, according to Thompson, but he added that the same principles can be applied to its aeronautics and scientific research programs. 
"Regardless of the domain, we still need these interconnects with our commercial partners and our government partners as well," Thompson said. 
NASA is currently in the fifth year of an ongoing digital transformation and focusing on intelligent data management to address some of its long-standing issues around data oversight. At an event earlier this year, Thompson said that one of the agency's most costly challenges is determining how best to handle  changing classifications and other labels for critical and sensitive data over time.