New Commerce Hub to Coordinate Government Blockchain Deployments Proposed by the House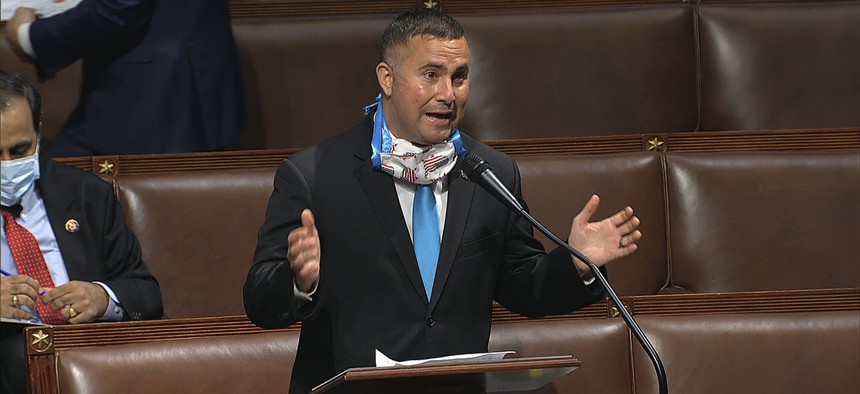 Legislation introduced in the House of Representatives would form an office within the Commerce Department to get all of the federal government's dispersed blockchain-centered pursuits in order—aside from those that involve defense applications.
Rep. Darren Soto, D-Fla., on Tuesday put forward the Blockchain Technology Coordination Act of 2021. It's been referred to the House Committee on Energy and Commerce. 
Blockchain essentially refers to a modern system for recording information and transactions via a decentralized, distributed digital ledger. The technology is at the core of virtual or cryptocurrencies, which have seen spurts in popularity this year, and are becoming more targeted for taxes by the IRS.
From pilot efforts to experiment with blockchain technology for grants management, to an application that could help track hospitalization data amid the COVID-19 pandemic—adoption ranges broadly across the public sector. Soto's bill, shared with Nextgov on Wednesday, seeks to establish an office to "coordinate all non-defense related deployment and activities related to blockchain technology within the federal government."
That Commerce Department-based hub would be aptly named the National Blockchain Technology Coordination Office. The 2-page bill is light on details about that office's duties, but notes that it would "be organized and led by a director, who shall be appointed by the secretary not later than 60 days after" enactment. 
"In order to ensure that the U.S. does not fall behind on research and development, we must embrace blockchain technology and explore all of the ways in which it can help our nation grow," Soto said in a statement over email. This establishment, which he referred to as "the creation of a Blockchain Center of Excellence" within Commerce, would "put us ahead of the curve as the global community continues to make quick progress in this space," the lawmaker added.
An original version of this legislation was set in motion right at the end of the last Congressional session. It follows a range of other crypto- and blockchain-related proposals previously set in motion by Soto, who is a member of the Congressional Blockchain Caucus.