NIST's Working to Support Interagency Blockchain Use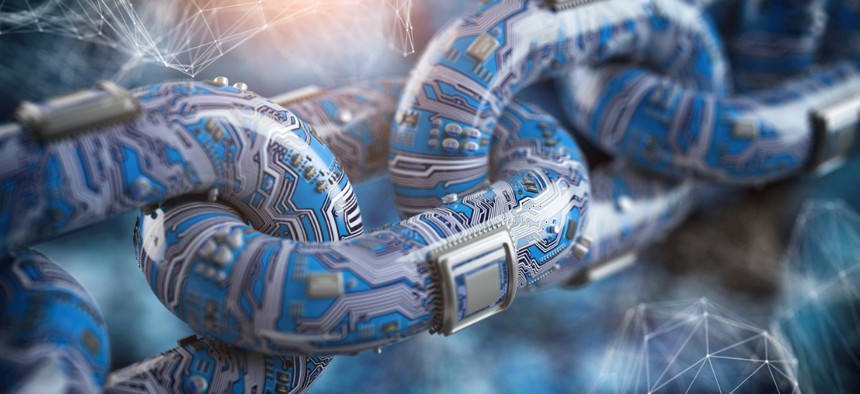 A notice of intent recently released by the National Institute of Standards and Technology provides a glimpse into how it's working to guide federal agencies' collaborative use of blockchain and distributed ledger technology-based systems. 
Since the beginning of last year, NIST has been developing and refining a proof-of-concept blockchain application that specifically hones in on grant tracking and is meant for use across the government, according to the document. Officials from the Treasury Department, the Defense Information Systems Agency and North Carolina-based company Prometheus Computing have also been involved in the work. 
The latter was awarded a previous task order for the project and greatly informed it. Now, the agency intends to work with that same business to build on and complete the previous authority to operate.
"The government-wide blockchain application research effort has involved internal exploration and testing of [Treasury] systems, including cryptographic function issue identification, and collaborative interagency relationships requiring mutual trust. It is important for information technology security purposes that this work be limited to as few researchers as possible," the document notes. "Inability to continue the ATO process for the blockchain development research through to completion with the original contractor would jeopardize security as well as the trust and confidence of collaborating agencies in NIST."
Regardless of whether it's Prometheus, the agency's chosen contractor under this new notice will eventually need to inform future interagency blockchain system requirements and pinpoint potential modifications that need to be made to the present approach to ATOs, in support of work in this realm. An enterprise blockchain platform for federal entities would also be part of the ultimate aim.
"There are many nuances and complexities to discover and overcome, system requirements for running an interagency blockchain system and differences/difficulties in the [ATO] process," officials wrote. 
Sights are set on the company named—but interested parties who believe they can meet the criteria are invited to weigh in by March 14.