How Virtual Reality Is Helping Prepare Service Members to Support Peers in Emotional Distress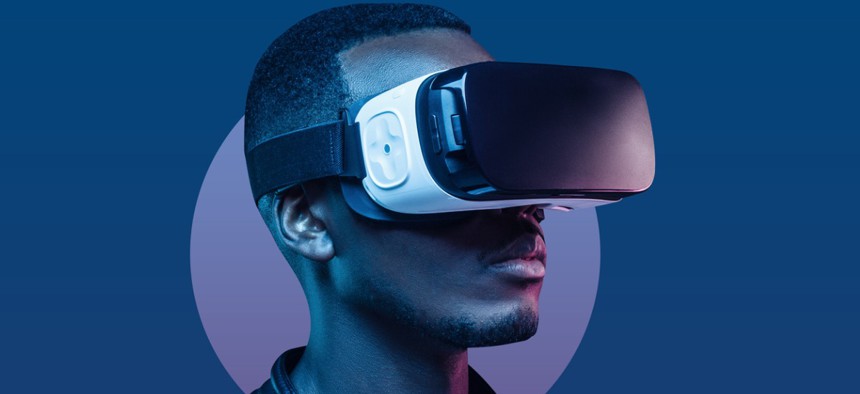 The VR training gives airmen practical experience convincing a peer to seek help.
The U.S. Air Force is using virtual reality technology to give airmen the practical experience needed to be able to help colleagues in a mental health emergency in a program that will be expanded to incorporate military spouses as well.
In 2019, 498 military service members died by suicide, according to the Defense Department's annual suicide report. The Air Force is going beyond traditional computer-based and small group discussion training to better prepare airmen for engaging someone in emotional distress to get help. Nextgov talked with Master Sgt. Shawn Dougherty, a VR training facilitator on the program, and Moth+Flame, the tech company developing the virtual suicide prevention training, to learn about the program. 
Dougherty, who participated in a February demonstration of the technology at Travis Air Force Base, said it's important to simply get the conversation around mental health going in the military. But talking about what to say in a situation where someone is in distress is very different than actually saying the right words out loud. The training was also demoed at Scott Air Force Base. 
"You're verbalizing questions that you haven't had to say before," Dougherty said. "You've played it out in your mind but you've never said it out loud before, and putting it into practice is completely different than game-planning in your head."
During the voice-activated simulation, participants interact with a man named Mike, who is in clear emotional distress, with the goal of getting him to seek help. The actor and the simulated environment are extremely believable, Dougherty said. 
"Some people will actually say those hard questions a little bit quieter," Dougherty said. Saying the necessary questions—such as do you have a gun in the house—are much more uncomfortable than merely asking someone how they are doing, he explained. 
Moth+Flame was awarded a Small Business Innovation Research contract for the suicide prevention work, according to Kevin Cornish, the startup's chief executive. 
"What's exciting about this program is that this is not a program training somebody on how to use a really expensive weapon system that you would expect technology to be a part of," Cornish said. "It's about just the most basic of organizational needs of how do we build a culture where people are comfortable having difficult conversations with each other." 
During the February demonstration, participation was limited to leadership. This spring, in the May to June time period, the module will go out to about 500 airmen of mixed ranks to get more feedback. 
The peer-to-peer simulation is also not the only scenario Moth+Flame is creating. There will also be modules for supervisors, for first sergeants, and for spouses as well, Dougherty said.