GSA Joins Cryptocurrency Craze With First-Ever Bitcoin Auction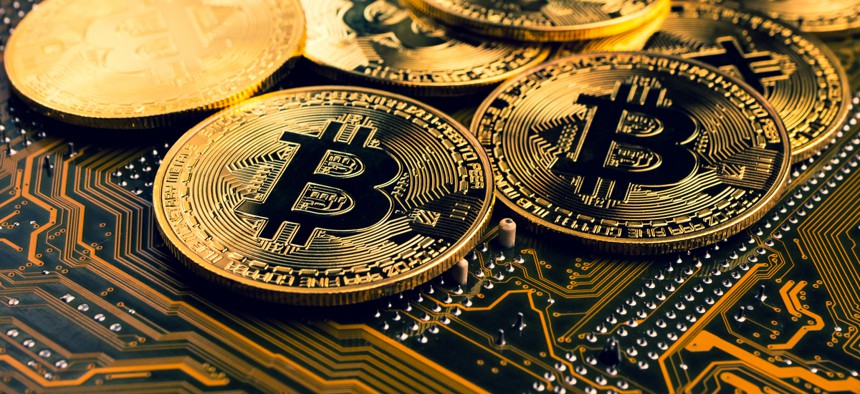 The General Services Administration got its hands on a share of Bitcoin and is putting it to auction later this month.
The General Services Administration is preparing to auction off more than three-quarters of a share of Bitcoin later this month—a first for the agency.
While GSA is most widely known as the government's central buyer and landlord, the agency also runs an auction platform, GSA Auctions, where it sells all matter of used and no-longer-needed federal property. Past auctioned items have ranged from the mundane—like old computers and monitors—to unique items like a Black Hawk helicopter, a lighthouse and even a bag of lottery tickets.
But offering a share in a cryptocurrency is new for GSA.
From March 15-17, GSA will be accepting bids on a 0.7501 share of a single Bitcoin, "valued at more than $38,000 as of March 5, 2021," according to the agency. On Monday, that share of a Bitcoin was worth $38,112.58.
"This auction marks the first time cryptocurrency will be made available for public sale through GSA Auctions, and it is the only piece of cryptocurrency to have fallen under the purview of the U.S. General Services Administration," a GSA spokesperson told Nextgov.
While the agency declined to say where the Bitcoin share came from, citing "privacy concerns," the spokesperson noted GSA Auction items "come from a wide range of sources, including surplus government equipment, seized property and gifts from foreign governments." 
The auction begins at 5 p.m. March 15 and ends 48 hours later at 5 p.m. March 17.
Prospective bidders must register on the GSA Auction site prior to bidding. Payment on the winning bid will be due by March 19.
"Whether it's a car, or a piece of jewelry, or now even cryptocurrency, you never know what kind of treasures you'll find on GSA Auctions," acting Southeast Sunbelt Region Administrator Kevin Kerns said in the announcement. "A special thanks to GSA's Southeast-Great Lakes Personal Property Management team for making our very first cryptocurrency auction a reality."
The auction is being framed as an opportunity to start investing in cryptocurrencies. However, Bitcoin, like other cryptocurrencies, is not a traditional investment commodity. The goal is similar to the stock market—buy low and sell high—but the cryptocurrency markets have been highly volatile over the years.