Army Corps of Engineers Plans Next Moves for Autonomous Vehicle Research Testbed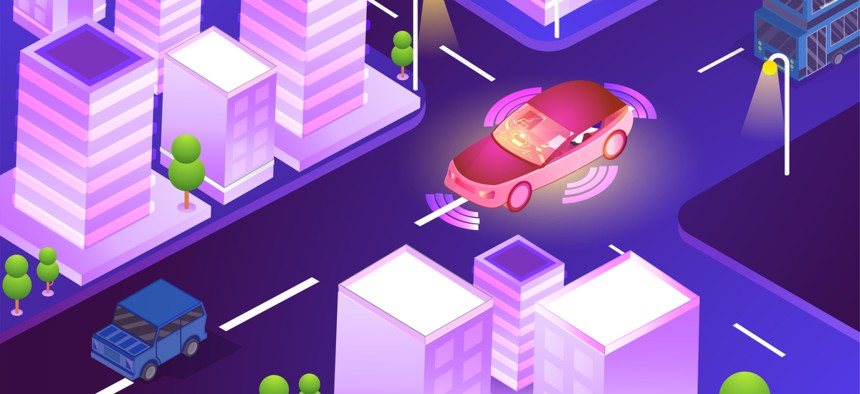 The plan is to potentially branch out beyond the military base.
After embarking on the initial buildout of a testbed to pilot self-driving shuttles and other smart transportation technologies at Fort Carson, the U.S. Army Corps of Engineers aims to extend experimentation into the Colorado Springs local community that surrounds the base.
The Corps plans to tap into sensors, artificial intelligence models and other tools to incorporate traffic and weather-related data in that expansion. And in doing so, it expects to again partner with U.S. Ignite, a National Science Foundation-rooted organization designed to advance next-generation networking applications for that in-the-pipeline effort, according to a presolicitation published this week. 
"Due to the unique knowledge and experience gained under [previous research and development] efforts regarding Fort Carson facilities, U.S. Ignite possesses the unique intellectual capital to provide the highly specialized services required to meet the government's current scope of work," officials note in the document. 
Still, other entities that are interested in heading the effort and equipped with capabilities to do so are invited to respond to the notice by Feb. 16. 
U.S. Ignite's project portfolio encompasses a range of connectivity-driving and tech-centered efforts, including the 5G Living Lab at Marine Corps Air Station Miramar and this Fort Carson-based Smart Transportation Testbed. For the latter, the Corps awarded it a contract in August 2019.
Since then, U.S. Ignite conducted a self-driving system technology demonstration, and honed in on research requirements to establish a 4G/5G network to underpin the connections, and initialize ground service and small drone flights at the airfield to detect debris and gather data analytics, the release noted. Fort Carson now maintains those elements as an established piloting hub, it said—so the latest intention is to expand that testbed out into surrounding localities to explore "sensor deployment, data integration, AI model, and decision dashboards development that integrate traffic and weather-related information."