Intel Agencies Seek to Perfect Biometric Recognition from Drones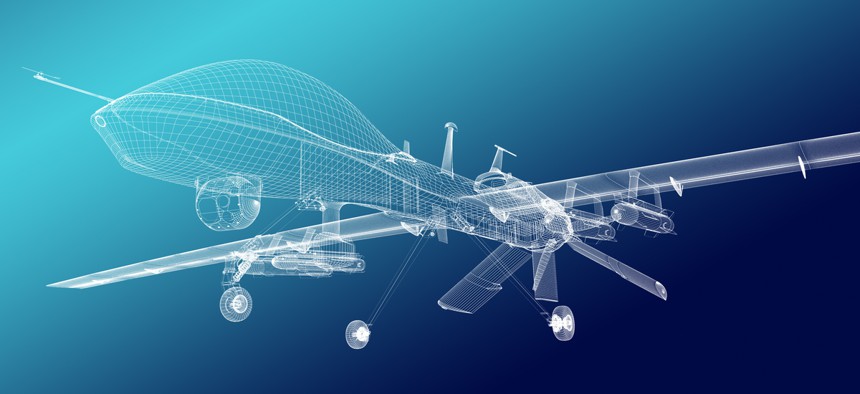 Intelligence and military researchers want to merge facial recognition with other biometric methods to identify people from long distances and steep angles
The intelligence community wants to put biometric identification technology on drones but has hit a wall when it comes to the most widely used biometric: facial recognition.
Federal programs experimenting with facial recognition technology have found the reliability depends greatly on lighting, camera position and other environmental factors—elements that are almost impossible to control at long range. But improvements in computer vision and techniques that take a subject's entire body into account are increasing the possibilities.
The Intelligence Advanced Research Projects Activity, or IARPA, issued a broad agency announcement solicitation for its latest attempt to improve biometrics at range, the Biometric Recognition and Identification at Altitude and Range, or BRIAR, program.
"The BRIAR program aims to develop software algorithm-based systems capable of performing whole-body biometric identification at long-range and from elevated platforms," the call states, outlining a three-phase process to prototype and test novel ways to incorporate multiple biometric signatures—such as face, gait and body type—to improve identification and verification at long ranges and steep angles.
"Many intelligence community and Department of Defense agencies require the ability to identify or recognize individuals under challenging scenarios, such as at long-range (e.g., 300+ meters), through atmospheric turbulence, or from elevated and/or aerial sensor platforms (e.g., ≥20° sensor view angle from watch towers or unmanned aerial vehicles," according to the solicitation posted to beta.SAM.gov.
"Expanding the range of conditions in which accurate and reliable biometric-based identification could be performed would greatly improve the number of addressable missions, types of platforms and sensors from which biometrics can be reliably used, and quality of outcomes and decisions."
The solicitation call notes facial recognition has "increasingly become the biometric modality best suited for [intelligence community] and DOD missions," particularly when operators cannot control environmental factors—called out in the document as pose, illumination and expression, or PIE.
While these factors—the position of the subject, lighting around them and their facial expression—determine the quality of the image and subsequent matching attempts, "Over the past six years, there have been notable advances in computer vision to facilitate unconstrained" facial recognition, the document states.
"However, there remain challenges," officials wrote, "in particular for diverse face detection, verification and identification when dealing with low-resolution or noisy imagery."
IARPA researchers are also interested in learning more about how steep angles—such as from cameras on top of high buildings or mounted on drones—affect image capture and the algorithmic options for getting good results out of such images.
The BRIAR program will combine multiple biometric factors, including face, stride and "anthropometric classifications" like height and gender to improve match rates.
"These biometric signatures can enable the identification of a person in a degraded, noisy, or low-resolution video without relying on medium to high resolution views of a subject's face," the call states. "[Whole-body] approaches utilize the shape, movement, measurements, or other aspects of a human form to determine biometric signals that are universal, unique, and permanent human characteristics for the purposes of verification, recognition, or identification."
The program also hopes to attune for racial diversity by using "robust, demographically diverse, domain-relevant biometric data," the document states.
By the end of all three phases, IARPA officials hope to meet target metrics for face and whole-body recognition across three types of biometric matching:
Verification, or one-to-one, matches a new image against an established, verified image of the person. At long range and steep angles, researchers hope to have a 70% accuracy rate for facial recognition and 85% accuracy for whole-body.
Open search, or one-to-many—also known as identification—attempts to identify a person by matching biometric markers in a new image against a broad database of images. The program hopes to get to 50% accuracy with face and 20% accuracy with whole-body open searches.
Rank retrieval, or one-to-small-many, compares a new image against a set, limited database of images. For this method, researchers want the correct identification within the top 20 results 95% of the time for facial recognition and 98% of the time with whole-body.
The solicitation stresses that the program will focus on the software side of the problem and not "developing custom optical sensors, sensor systems or sensor platforms."
The document includes a litany of technical challenges and objectives to overcome, including successful matching at more than 1,000 meters, matching at severe sensor pitch angels and mitigating image distortion due to atmospheric turbulence and other uncontrollable environmental conditions.
Contracting officers are expecting to make multiple awards Phase I awards off the call, with subsequent funding based on performance in each phase. The solicitation also notes, "The amount of resources made available under this BAA shall depend on the quality of the proposals received and the availability of funds."
Proposals addressing all three phases of the program are due by 4 p.m. Feb. 10.
Program officials expect to kick off the project in August 2021, with an end date target of July 31, 2025.