Where America Rates in the Latest Leading Supercomputer Rankings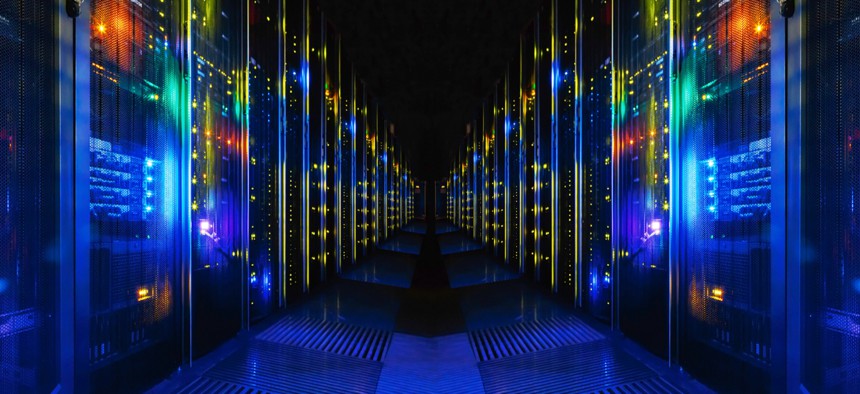 Major supercomputing players—both old and new—made it onto the latest Top500 list.
Japan's supercomputer Fugaku kept the number one spot on the latest Top500 list ranking the world's most powerful machines, beating others built by the U.S. and China. 
Two new systems also claimed a place in the top ten, on the iconic list of who's who among the planet's leading supercomputers, which was unveiled Monday at the International Conference on High Performance Computing, Networking, Storage and Analysis, or SC20. The release marks the 56th edition of the tally—and the capacity captured by the Top500 remains on the rise.
"It's quite impressive to understand where we have been, and you know, trying to project where things are going to go into the future," Jack Dongarra, one of the original founders of the Top500 told Nextgov Monday. "We've seen tremendous, tremendous growth in terms of performance."
Dongarra wears many hats. He's a professor at the University of Tennessee, and holds appointments there, as well as at Oak Ridge National Laboratory, and the University of Manchester—and he's been involved in producing the lineup since its day one. Formally compiled since 1993, the Top500 list is now generally released twice a year and officially announced at SC20 in the U.S. in the fall or the International Supercomputing Conference in Europe in the summer. 
"But the Top500—actually, for me—goes back to the late 1970s," Dongarra explained.
Back then, he was doing work at Argonne National Laboratory, where for out of interest and for the job he began essentially benchmarking the performance of supercomputers at the time to help officials better understand the machines. A colleague of his in Germany (who has since passed, but his descendants now run the European conference) was keeping his own list of separate but significant indicators measuring contemporary systems' performance—and one day it dawned on the two of them to combine it all into an official, recurring track of, as he put it, presenting "the top 500 supercomputers in the world." Dongarra and his close colleagues started releasing it in the early 90s, and haven't stopped since.
To appear on the list at all, participants today must run a benchmarking program, introduced by Dongarra, on their systems to ultimately provide a performance number. And the top spot, he said has become "sort of like a trophy on a mantel for having the fastest computer—so it's something people seek out and would like to have."
The top five supercomputers on the freshest list, put forward this week, are: 
According to Dongarra, on each list every half-year, "there are always things that are significant." 
Nvidia's Selene was previously listed at number seven in June, but the system has since doubled in size as reflected on the list. Japan's Fugaku—which he noted, unlike many others is designed from the bottom up to be a machine specifically used for scientific computing—moved the U.S. out of the top spot in June and it's also been boosted since then. Additional hardware helped the system reach a point where it's now three times ahead of America's number two machine in the list in performance measurements. 
Two systems also made it into the overall top 10 ranks of the record for the first time. A new supercomputer called the JUWELS Booster Module debuted at number seven, is installed in Germany, and achieved a performance that the Top500 press release said "makes it the most powerful system in Europe." Also new to the list is Dammam-7, a supercomputer installed in Saudi Arabia that is now at number 10. Still, this year also saw the smallest number of new entries since the project began decades ago.
Dongarra also pointed out that over the last two decades, China has really emerged as a leader in terms of producers of supercomputers. There weren't any Chinese supercomputers in the Top500 back in 2001.
"Science is now driven by simulations—so if you want to have the best science, you're going to need the best computers to do that," Dongarra said. "So it's really important for us to continue to strive to have the best supercomputers in place to help us and others."
Still, he's confident America will make up for lost time in forthcoming lists and years. Three exascale supercomputers—or powerful systems with capacity to process more than one quintillion calculations per second—are currently under construction on U.S. soil. Set to be based at Argonne National Lab, Aurora was originally slated to be released in 2021, but Energy recently confirmed that due to certain setbacks, Oak Ridge's Frontier might come first. El Capitan is also in-development at Lawrence Livermore. 
"I would say that either in June of next year, '21, or November—a year from now—we will have an exascale machine on the list," Dongarra said. "And most likely, that'll be Frontier."
And just as the supercomputing systems have grown in computing capacity over the years, the conferences capturing them have blossomed and evolved in their own right. This year saw a bit more change than usual, as the COVID-19 pandemic forced both of the performance-tracking conferences spotlighting the Top500 to go completely digital.
"Planning the traditional SC conference is no easy task—in fact, each one takes three-years of preparation and planning, with hundreds of volunteers," SC20 Conference Chair, Christine Cuicchi told Nextgov via email. "When we decided to go 100% virtual, we set a goal to preserve as much of the regular conference schedule as possible, while being cognizant of attendees' locations, schedules, and restructured working environments." 
Cuicchi also serves as director of the Navy Department of Defense Supercomputing Resource Center, or Navy DSRC. She noted that a benefit of using a virtual platform is that it enables the high-quality delivery of a complex technical program while also showcasing more than 300 exhibitors.
"Plus, this information will be available online for six months after the conference," she said. 
Dongarra added that he envisions some elements of future conferences to remain virtual, even beyond the pandemic. 
RELATED PODCAST