How Two U.S. Military Bases Are Exploring 5G's Potential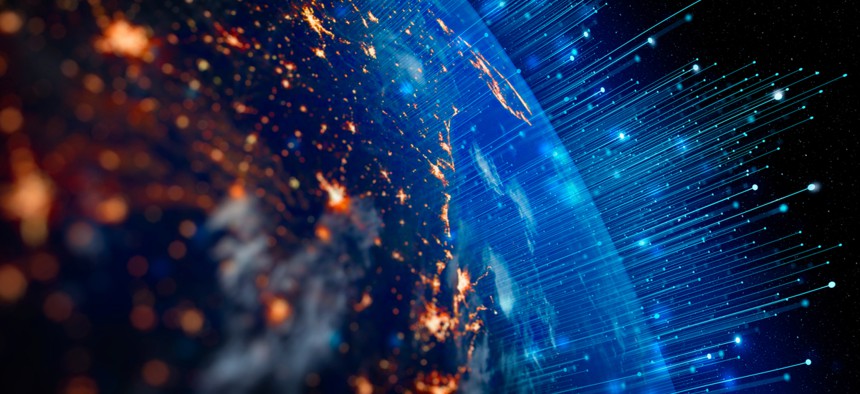 The Defense Department's fresh effort to produce future-facing testbeds for strategic 5G experimentation spanning more than 10 military bases is beginning to unfold—and officials at the forefront of work on two of those sites illuminated what early applications will look like on the ground.
"5G is coming, no matter what we do," Jody Little, executive program manager of Joint Base San Antonio's 5G NextGen work, told Nextgov during a recent webcast. "We have to have these things working—both on a secure level and on an operational level."
The Pentagon's big plans for 5G came to light last year, when the agency revealed its ambitious intent to pilot, prototype and explore next-generation wireless technology at specific military installations that make sense for its development. In October 2019, Joint Base Lewis-McChord, Hill AFB, Naval Base San Diego and Marine Corps Logistics Base Albany were named as the department's "Tranche 1 testbeds for 5G capabilities," and Nellis Air Force Base was added to that group months later, in May. Seven new locations—Naval Station Norfolk, Joint Base Pearl Harbor-Hickam, the National Training Center at Fort Irwin, Fort Hood, Marine Corps Base Camp Pendleton, Tinker Air Force Base, and Joint Base San Antonio—were unveiled as Tranche 2 testbeds after that.
Projects on the 12 bases are set to encompass 5G-enabled smart warehouses, augmented and virtual reality, radar—and much more. A further expansion is expected, and the department dished out $600 million to 15 contractors in October to kick off efforts at those five "Tranche 1" sites.
"Here at Nellis, we're looking to develop a 5G range to aid the survivability of our air and cyberspace forces," the USAF Warfare Center's Director of Plans and Integration/Future Capabilities Col. Mike Driscoll told Nextgov during the panel. 
Through the work, an initially fixed—then mobile—5G environment will be provided with help from AT&T. Driscoll explained that the branch's air operations centers are generally fixed structures filled with hundreds of personnel who serve many important functions. The centers are crucial—but also "easily targetable," Driscoll noted. Over the course of the pilot, officials aim to separate out and disperse those teams throughout the relevant area of responsibility, to make it a little tougher for adversaries to stop them than when they're all in one place. From there, Driscoll said the plan is to "fuse all these warfighters that are dispersed with some kind of a cloud connected by 5G, to where we take sensors, and feed that cloud with targetable solutions—so we're always a step ahead of the enemy, and with a faster kill chain."
Testing at Nellis is set to start in January and roll out over three 12-month phases. Next-level connectivity will first come from an initially fixed structure of a core command post and two trucks with towers enabling 5G connection. Down the line, those will be taken on the road throughout Nellis' test and training range, which Driscoll said spans thousands of square miles.
He offered a modern metaphor to help listeners visualize the ultimate aim. 
"So, when I was a kid, I used to have to go to the arcade room to play a certain video game and dump a lot of quarters into that—but it always had to be at the arcade room. Now, kids are playing Fortnite. It could be on an iPad, it could be on an Xbox, it could be on a PlayStation—and no matter where they go, if they have a wireless connection, … they're fighting in a virtual battlespace," he said. "We're trying to replicate the environment my kids are fighting in, but applicate that into air and cyberspace. And we have one of the world's largest test ranges here at Nellis, where we're looking to develop that technology."
As part of the second tranche of exploration, Joint Base San Antonio's experimentation will focus on two distinct areas: augmented reality in support of maintenance and training, and the creation of the department's 5G core security experimentation network.
"The core is the brains and the heart of 5G. It's a big part of what brings the ultra-low latency, and massive movement of data, etc. to the table under 5G," JBSA's Little said. "So, we're looking at running multiple cores."
In doing so, insiders will explore the interoperability between those cores, technologies to secure them at different levels, and how slicing will work. They'll also run an extensive vulnerabilities analysis of the cores, with a view from end to end.  
Little added that the base's telemedicine-centered experiments have "a lot of potential to save lives." 
Mobile medics are deployed in some of the world's most dangerous places to treat wounded and injured soldiers, and the Pentagon sees 5G's potential to help get advanced medical expertise out into those environments to support them when they need it most. Little added that the effort will also consider how medical robots could assist deployed troops, and the potential fifth generation connectivity could hold for telemedicine, and telesurgery. He highlighted the power of using augmented reality that overlays critical medical information in treatment. 
"For example, I'm looking at a patient and I can see where they've done an MRI of his brain, and I can see the brain as if I'm looking through him, or his chest or other parts of the body," Little said.
Both officials emphasized that collaboration is central to the ongoing work. "We've been running a 5G steering group here for seven, eight months now," Little noted. The base has already brought in a range of telemedical and communications players, as well as systems developers, to share information back and forth about initiatives.
"We've got to step outside just the Air Force-centric view of what this means," Driscoll added. "So we're reaching across to the Navy and to the Army, to ensure that our systems can talk to each other." 
The Pentagon aims for installations to collectively result in leap-ahead 5G capabilities that'll enable the U.S. to outpace its challengers, but the panelists said there's still a lot of learning to go. 
"[In this] country there's a few people—and I mean a few, there's not a lot—that understand what a 5G architecture is, how to optimize it, and what to do with it. And that's got to grow," Little said. "I think you're going to see the educational side of this pick up fairly significantly in the future."