NIST-Supported Quantum Consortium Launches Committee on National Security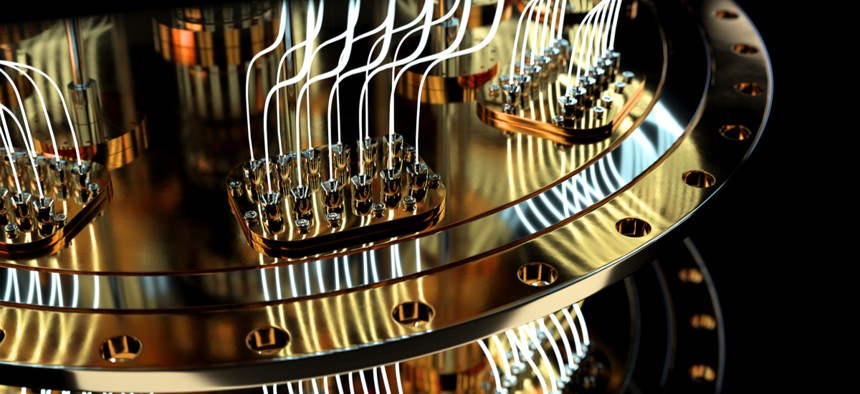 The group will explore the on-the-rise technology's implications within the crucial defense-driven realm.
The relatively nascent, National Institute of Standards and Technology-backed consortium launched to help strategically advance the emerging U.S. quantum industry recently established a new technical advisory committee, or TAC, to specifically target national security.
QED-C, short for the Quantum Economic Development Consortium, was codified by 2018 legislation to help unite various components of the nation's quantum ecosystem and ultimately accelerate quantum-driven deployments and innovation. Through four original TACs, consortium members collectively dive deep into specific areas of need. 
The new "quantum for national security committee" will be run much like the others, but also offers something a little different than the rest, according to QED-C Deputy Director Celia Merzbacher. She announced the new TAC Thursday at the Genius Machines 2020 Virtual Summit hosted by Nextgov and Defense One—and this week shared more details on its impetus and work.
"We have this group now and the full roster is, I think, up to around maybe 60 people...engaged—and it's roughly equal industry and government—so that's great," Merzbacher told Nextgov over the phone Monday. "It's only met a couple of times, so we're just getting it organized on what areas it might address."
The individuals that make up that roster are stakeholders from the consortium's select member organizations, of which there are now more than 100. QED-C's existence is rooted in the National Quantum Initiative Act signed by the president almost two years ago, and its primary intent is to pinpoint and help close gaps in standards, cybersecurity, measurement, applications and more that need to be confronted to push forward quantum development across the U.S. industrial landscape. Within its existing committees, members collaborate on exactly that. 
"There are four that were stood up previously," Merzbacher said. "So, there's one that's focused on use cases—what are the big high impact areas where quantum is likely to be applied."
Another committee focuses on what she called "enabling technology gaps," or essentially what's standing in the way of quantum applications actually being fully realized. The third TAC hones in on standards and performance metrics, while the fourth looks to identify needs across America's education and workforce pipelines. And as QED-C's work unfolded, national security implications and applications emerged as another topic that warranted a deliberate focus. 
Existing consortium members raised the need for this new TAC, and its steering committee signed on. 
"The thing that's interesting about the quantum for national security committee is that it really is kind of cross-cutting all the others," Merzbacher explained. "So there's naturally interactions happening between the use case committee, for instance, and what use cases of quantum might have application in the national security space—and what enabling technologies are going to be necessary for those national security applications. So, we're having this sort of communication between the committees as we start the work of this national security committee."
At the same time, those involved are also puzzling out challenges that exist in the other topic areas, but make the most sense to fall under the umbrella of the new TAC.
"For instance, an example of a workforce issue that is more relevant to the national security community would be the pipeline of people who can get clearances," Merzbacher said. "That's not something that the commercial side worries about, but on the national security side—both for the contractors and for the government—it's very important."
As for the spark behind the new TAC, she added that the consortium itself was produced to help link efforts between government customers, research funding organizations, and the private sector. 
"So, it made sense that in addition, even though QED-C has 'economic development' in its name, that we also should make that bridge between the parts of government that are worried about national security and our members," Merzbacher said. Further, the new committee also offered an opportunity for existing consortium members to reach out more broadly across the government, she noted, and engage parts of that community that perhaps hadn't been involved previously.
Though the consortium is currently in the midst of moving toward a more formalized operational structure, Merzbacher added there's a chance new committees or interest groups may pop up, as members deem crucial topics more necessary.
"We're having conversations that are sort of developing and growing with sectors like the pharmaceutical industry. So, I could envision having something that was focused on the needs of a particular sector that might come together whether it was a committee—or whether it was a subset of the use case group—to be determined," she said. "While we don't have any of those planned right now, I think that we quite likely would in the future." 
Editor's note: The headline has been updated to clarify that QED-C is industry led.