TSA's Plan to Address Evolving Threats to Travelers Relies on Innovative Technology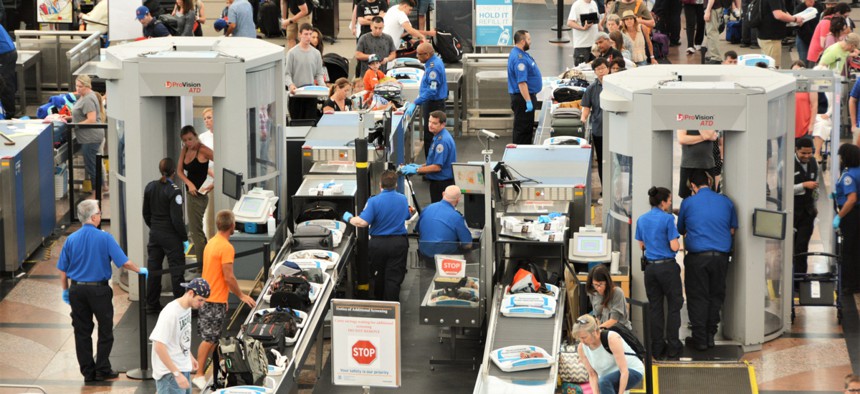 While technology was not a distinct focus area for the agency, it permeates every aspect of the administrator's vision.
The Transportation Security Administration is eager to keep abreast of the ever-changing threats facing American travelers, which will include improving the agency's technology—procurement, development and delivery—according to a new guidance document from Administrator David Pekoske.
The document published Tuesday—entitled, "TSA Administrator's Intent 2.0," or AI 2.0—builds on the eight-year TSA Strategy document released in 2018.
"As we look towards the future, we recognize the need to accelerate new and innovative screening concepts to create a near-contactless experience at the checkpoint," TSA Administrator David Pekoske wrote in his introduction letter. "We will continue to pursue advancements in technology and procedures to allow for more automation as we provide for the security of the traveling public in the future, no matter the threat."
The document divides the agency's goals into three buckets: improve security and safeguard the transportation system, accelerate action and commit to our people. All three of these goals have distinct technology components.
"We will lead by example, strengthening operations through powerful and adaptable detection capabilities, intelligence-driven operations, and enhanced vetting," the administrator said of the first goal, much of which will rely on technology.
The document notes adversaries across the spectrum—from lone actors to nation-states—use a variety of "sophisticated tactics" to try to attack or otherwise disrupt commercial aviation.
"To outmatch this threat, we will invest in innovative technologies and processes to strengthen the effectiveness of our operations," the intent states. "Optimizing resources and improving frontline functions will further enable our people to mitigate threats and focus their attention where it matters most."
Specific technology efforts include improving counter-drone systems at large airports.
The first goal also focuses on increasing data collection and sharing to identify insider threats—TSA and contract employees—and potential passenger threats. Pekoske also notes the agency continues to explore how technology can improve customer experiences across the board while enhancing security and vetting.
"We will embrace this shift by further improving information sharing and integration, pursuing expanded vetting and credentialing authorities and capabilities and modernizing information technology systems, while respecting privacy rights," the document states.
The second goal of accelerating action will require the agency to encourage a "culture of innovation that anticipates and rapidly counters the changing threats across the transportation system" and enables the agency to quickly deploy new technologies to meet those threats.
If done correctly, TSA officials hope to position agency leaders to make quick decisions using data, which will require building on its "business intelligence capability to provide improved data sharing, data analytics, informed decision-making and operational automation."
This work will be done in conjunction with streamlining the procurement and approval process to help teams field innovative processes and technologies more quickly.
Ideally, all of this work will be led by a "skilled workforce prepared and equipped to meet the challenges of tomorrow," as stated in the third goal.
While that goal will focus on hiring skilled employees and training or reskilling the current TSA workforce, it will also require new technologies to be effective. To assist, TSA plans to "establish next generation training capabilities that leverage innovation and technology to facilitate distance, mobile and virtual learning," the document states.
The agency will also need a better underlying IT infrastructure to support this skilled workforce.
"Today's workforce requires access to advanced, reliable, and secure systems paired with a durable infrastructure," the intent states. "We will make the necessary investments in technology and security systems to enable our people to successfully carry out their responsibilities both on the frontlines and in mission support."
Similarly, the document outlines seven focus areas, only one of which is explicitly about technology—the cybersecurity focus area—while the others all allude to the need to improve IT to accomplish the mission.
With the administrator's intent established, the onus switches to designated lead offices and officials to make it a reality, including "drafting and maintaining implementation plans."
"These implementation plans will identify the specific initiatives, activities, milestones, funding requirements, risks performance measures and provide a measurable end state," the document states.