NASA Curates Virtual Experience for Public to Participate in Upcoming Rocket Launch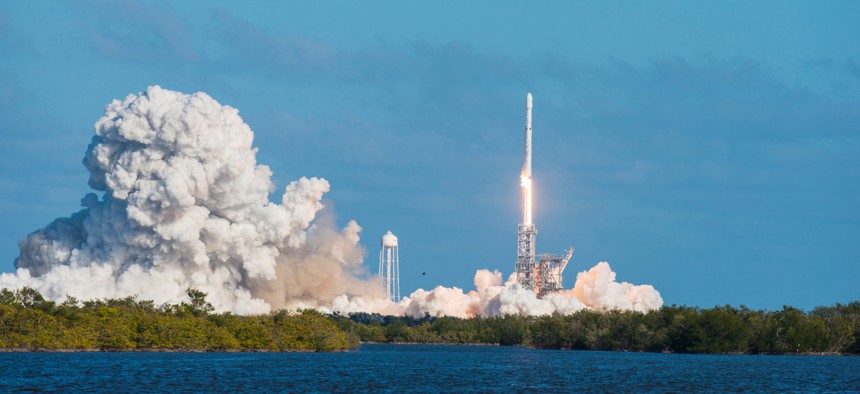 Two American astronauts will launch into space next Wednesday on American rockets from U.S. soil for the first time since the end of NASA's Space Shuttle program in 2011. 
And for this initial flight of the new decade, the space agency aims to bring mission updates and a launch experience usually felt only by on-sight guests to the entire American public—through a range of digital events, social media coverage and virtual access that'll go beyond what was offered prior to the COVID-19 pandemic.
"Through NASA's virtual launch experience, we make it possible for more people than ever to watch the beginning of this new era in human spaceflight," NASA's Associate Administrator for Communications Bettina Inclán said in a statement.
The flight into orbit represents the next age of space travel, through which the agency is teaming up with commercial partners to deliver the first woman and next man to the moon by 2024, and astronauts to Mars beyond that through its ambitious Artemis mission. Deemed NASA's SpaceX Demo-2 test flight, the mission is a piece of the agency's Commercial Crew Program, and will send Robert Behnken and Douglas Hurley to the International Space Station for a "to-be-determined" duration of time. 
At 4:33 p.m. EDT Wednesday, the SpaceX Falcon 9 rocket will launch from NASA's Kennedy Space Center in Florida. The company's Crew Dragon spacecraft, set atop that rocket, will deliver the astronauts to the ISS. Demo-2 will mark the Crew Dragon's first crewed testflight and the final step before the agency certifies SpaceX's craft for operational, long-duration missions to the space station through the Commercial Crew Program. 
The American public can register online to virtually attend the launch, and receive a range of NASA-curated resources to enhance the experience. Video coverage of all pre-launch and launch activities will air across NASA TV, YouTube, Twitter, Facebook, and Linkedin. The agency also encouraged people to use the hashtag #LaunchAmerica for a chance at having their posts shared via the space agency's social media channels.
And that's not all. 
NASA notes that in the days ahead of that mission it will host an ongoing, global "NASA Social," which the agency said will take the form of a Facebook group that any social media user can request permission to join.
"While we cannot invite the public onsite for one of our usual NASA Social events because of the COVID-19 pandemic, we are excited to present an opportunity for people of all ages from all over the world to participate in," officials wrote regarding the initiative. "This will be our very first global virtual NASA Social."