Pentagon Is Searching for Domestic Drone Options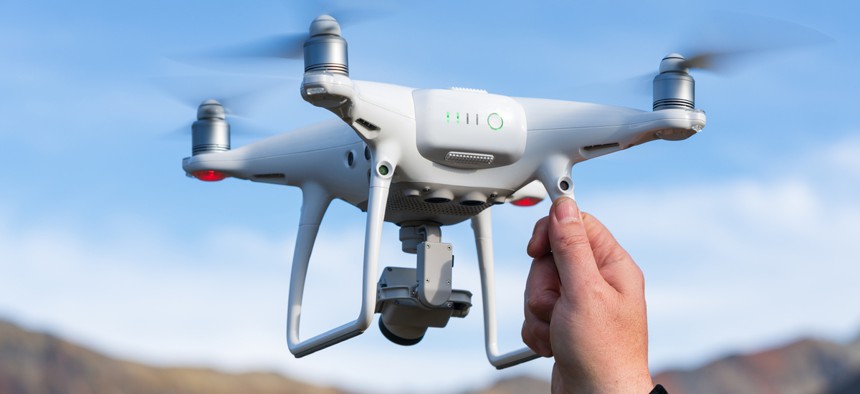 Acquisition chief Ellen Lord shared details about the Defense Department's efforts to spark a U.S. ecosystem for small unmanned aerial systems and counter technologies.
The Defense Department expects to focus on domestically created and funded unmanned aerial systems and counter-unmanned aerial systems in 2020 as part of its ongoing efforts to secure its supply chain.
"We see this as developing an ecosystem to have investment in areas that the Department of Defense thinks are particularly critical for providing capabilities to the warfighter, but also translate many times into commercial products," Under Secretary of Defense for Acquisition and Sustainment Ellen Lord said at a Pentagon press briefing on acquisitions priorities Dec. 10. "And I think you know that DJI flooded the market with low-cost quadcopters particularly, which eroded our industrial base and really altered the landscape for the U.S. government and for the small drone industry. What we want to do is reinvigorate that."
Lord repeatedly heard the need for systems that detect small, hobbyist-style drones as she traveled to air bases in Qatar, Iraq and Afghanistan through the course of the year. Though many services and agencies have looked into such tech, the department named the Army as the executive agent for counter-UAS. 
The department already hosted an event to kickstart U.S. investment into the field dominated by foreign companies. Last month, Defense partnered with Texas A&M University for a Drone Venture Day to showcase national security-related work from 39 U.S. UAS and counter-UAS manufacturers and 12 trusted capital providers. Those capital partners came from what Lord called "clean money"—small businesses that started with U.S.government funds at universities and labs. 
"We have found way too many times that we have what I'll call 'adversarial capital' coming into companies, and we then have to go through what I'll call 'defensive measures,' such as the Committee on Foreign Investment in the United States (CFIUS), to stop that, to make sure we have a secure and resilient supply chain," she explained.
In 2017, the Army banned soldiers from using drones made by DJI due to cybersecurity threats. The Interior Department in October grounded all of its Chinese-made drones for over espionage concerns and initiated a review. DJI has pushed back against cybersecurity and espionage claims. 
"My goal is to make sure we have three to five systems that are tailored to a series of different types of threats, and that we can get the economy of scale, of having a few best systems out there," Lord said. "And we talked about how to get those systems into the warfighter's hands as quickly as possible along, very importantly, with training and a logistics tail."