Pentagon Remains Bullish on 3D Printing, Despite Regulatory 'Slog'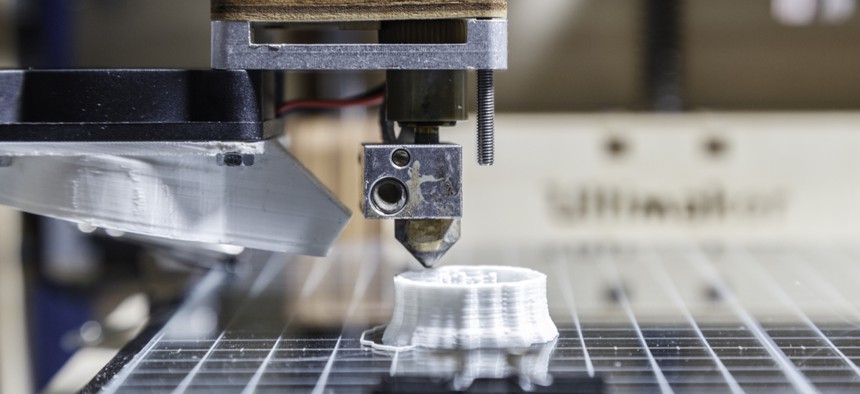 Military officials want to put additive manufacturing to broader use, but barriers remain.
For years, Pentagon officials have have been bullish about using 3D printing to build and fix weapons quicker and cheaper.
But its widespread use by the military has been slowed by regulatory and legal hurdles, experts say.
"It's a hard slog," said Neal Orringer, an executive in the 3D-printing sector and a former Pentagon official who helped stand up federal manufacturing institutes across the country.
While additive manufacturing could reduce the time it takes to manufacture parts, the lengthy process of certifying those 3D-printed pieces for use nullifies those speed gains — especially if you're building a part that could end up on a rocket or hypersonic missile that is subjected to extreme stresses and temperatures.
"Unfortunately, when it comes to aerospace and defense, there's actually going to be a limit to how fast a lot of this adoption takes place," Orringer said Nov. 7 at Defense One Outlook 2020. "Working in the additive manufacturing industry, trying to push this adoption — it's been frustrating."
In hypersonics, 3D printing could cut the time to make a parts "from 18 months down to a matter of weeks," Orringer said. But certifying new manufacturing techniques could take years, decades or more. Orringer has created a non-profit called Applied Science & Technology Research Organization of America, or ASTRO, to help bring advanced technology into defense-related manufacturing.
Pentagon officials remain bullish on additive manufacturing and have put together a number of initiatives to proliferate its use. Congress recently approved $42.5 million in the fiscal 2020 National Defense Authorization Act for the Pentagon's advanced manufacturing efforts.
In October, Army Secretary Ryan McCarthy approved a policy that requires the Army to use 3D-printed parts in new and existing weapons. The lighter parts would, in theory, allow tanks, armored vehicles, and helicopters to travel further or carry more weapons or equipment.
"You've got 3D parts in [Boeing] 737s flying over my office in the Pentagon. Why can't we put them on an armored vehicle?" McCarthy said during a Dec. 7 briefing on the sidelines of the Reagan National Defense Forum.
3D printing has already proved its worth in combat, where it is used for quick fixes on the battlefield, and at bases to make tools and parts. 
But it's also led to intellectual property issues, especially with so much money at stake in sustainment contracts, which Pentagon officials estimate make up 70 cents of every dollar spent on weapons.
"Parts [are] like razor blades to a defense company," McCarthy said. "You're constantly buying new ones. It's an incredible business model. They make a lot of money on that."
In 2018, the Air Force revealed that replacing a cargo plane's toilet seat, priced as a replacement part at $10,000, would cost just $300 if 3D-printed.
So the Pentagon is pushing 3D-printing in its military supply depots, which have manufactured thousands of parts with the technology.
"As we prove these things out in our depots, it's a great opportunity for us," Kristen Baldwin, deputy director for strategic technology protection and exploitation within the office of the undersecretary of defense for research and engineering, said Nov. 7 at Defense One Outlook 2020. "Now we can start to really apply them on our major contracts."
An October report by the Defense Department Inspector General found the Pentagon could expand its use of 3D-printed parts if military depots and individual units would share additive manufacturing know how and components.
"These actions could increase the use of [additive manufacturing] and improve warfighter readiness by decreasing the lead and repair times from years to days for some hard-to-procure parts that can be produced through [additive manufacturing]," the report states.
Baldwin echoed another of the findings in the report: that educating the workforce about additive manufacturing could help spread its use.
"We really need to advance the workforce to be able to understand how to use those tools and how to employ them and new and novel ways," she said.