Author Archive
Marcus Weisgerber
Global Business Editor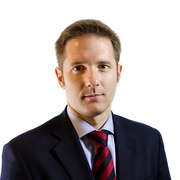 Marcus Weisgerber is the global business editor for Defense One, where he writes about the intersection of business and national security. He has been covering defense and national security issues for more than 16 years, previously as Pentagon correspondent for Defense News and chief editor of Inside the Air Force. He has reported from Afghanistan, the Middle East, Europe, and Asia, and often travels with the defense secretary and other senior military officials. Marcus' work has been cited by the New York Times, Washington Post, Los Angeles Times and many other U.S. and international publications. He has provided expert analysis on BBC, CNN, Fox News, MSNBC, NPR, SiriusXM and other television and radio networks. In 2018, he won a Neal Award for his coverage of the Pentagon and defense industry. Marcus served as vice president of the Pentagon Press Association from 2015 to 2022. An avid hockey fan, Marcus earned a bachelor's degree in English/Journalism from the University of New Hampshire.
CXO Briefing
Three years after merger of L3 Technologies and Harris, the company is striving to "compete on a level playing field," CEO Kubasik says.
Emerging Tech
The company and its partner Northrop Grumman were chosen over bids from Boeing and Lockheed Martin.
CXO Briefing
One trade association says Pentagon would lose $110 billion in buying power.
---
CXO Briefing
The White House-backed compact is also part of an effort to make supply chains more resilient.
Emerging Tech
The General Electric power plants will be installed in the Future Attack Reconnaissance Aircraft.
CXO Briefing
The company is looking for loopholes in its $4 billion contract.
Emerging Tech
A new GAO report details the latest setback for the presidential planemaker. 
Emerging Tech
But can the Super Hornet's star turn keep the production line open?
Emerging Tech
It's the first investment by the aerospace and defense giant's new venture arm.
CXO Briefing
Internal email reveals U.S. company's pressure to deny Europeans' application to powerful trade group.
CXO Briefing
The restructure gives two new deputies to the assistant secretary for industrial policy—and "dissolves" another.
CXO Briefing
Rep. Adam Smith: Putin's war "fundamentally altered what our national security posture" needs to be.
By

Marcus Weisgerber and Jacqueline Feldscher
CXO Briefing
If a 2017 law stays in place, there's a fear U.S. companies would reduce research-and-development spending.
Policy
The country plays a small but important role in both supply chains and sales.
Emerging Tech
The former New York City mayor and billionaire replaces Mark Sirangelo.
By

Patrick Tucker and Marcus Weisgerber
Emerging Tech
Space professionals worry the National Space Council is ceding its defense portfolio.
By

Marcus Weisgerber and Jacqueline Feldscher
CXO Briefing
Ten months into the Biden administration, predictions of flat budgets are evaporating amid inflation and Congress delays.
CXO Briefing
The defense secretary also pushed for deeper ties between the Pentagon and technology firms.
By

Marcus Weisgerber and Tara Copp
Emerging Tech
The companies recently connected a military communications network to a commercial 5G network.
CXO Briefing
Former Air Force Secretary Deborah Lee James named chair of the diverse advisory board.