Author Archive
Marcus Weisgerber
Global Business Editor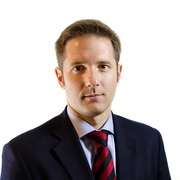 Marcus Weisgerber is the global business editor for Defense One, where he writes about the intersection of business and national security. He has been covering defense and national security issues for more than a decade, previously as Pentagon correspondent for Defense News and chief editor of Inside the Air Force. He has reported from Afghanistan, the Middle East, Europe, and Asia, and often travels with the defense secretary and other senior military officials.
Cybersecurity
A new clearinghouse has begun gathering and distributing information about threats to space networks, products, and services.
CIO Briefing
A flip remark drew some criticism, and a clarification.
IT Modernization
The service aims to accelerate its digitization by adopting product lifecycle management software already used by industry.
---
Emerging Tech
The Air Force acquisition chief says he keeps politics out of his work at the Pentagon — and that the U.S. will lose against China without agility.
Data
Officials say they're on pace to pass an audit…in 2027.
CIO Briefing
Christopher Miller becomes Trump's fourth acting defense secretary just 72 days before Inauguration Day.
By

Marcus Weisgerber, Bradley Peniston and Katie Bo Williams
CIO Briefing
As the nation waits for election results, some analysts are looking ahead.
Emerging Tech
CEO Taiclet wants a leading role as U.S. and allied militaries build out their next-gen mobile networks.
CIO Briefing
Ellen Lord says the bill would come to $10 billion to $20 billion.
Emerging Tech
Michael Griffin, defense undersecretary for research and engineering, and his deputy announced their July 10 departure in an email to staff.
CIO Briefing
The Defense Department is sending millions of dollars to keep companies afloat, and more deals are expected.
CIO Briefing
Despite the economic crisis, the industry has too much to do, and not enough people to do it.
Emerging Tech
Meanwhile, the U.S. has delayed several launches amid the COVID-19 pandemic.
CIO Briefing
The Govini assessment indicates that COVID-19 is about to hit military bases and manufacturing hubs in the southern and western United States.
CIO Briefing
Singapore's air show was a "ghost town," but so far, the organizers of big U.S. trade shows are pressing ahead with their events.
CIO Briefing
U-2 pilots are wearing watches that connect to foreign satellites, giving them backup navigation when GPS is jammed.
Cybersecurity
The hackers also allegedly stole sensitive documents from Visser Precision, which makes parts for Lockheed, Boeing, and SpaceX.
By

Patrick Tucker and Marcus Weisgerber
CIO Briefing
The Pentagon wants your input — and space cadets and spacemen are not under consideration.
Data
Over the next two years, the Space Development Agency is looking to put dozens of satellites into orbit. 
Emerging Tech
Military officials want to put additive manufacturing to broader use, but barriers remain.