Author Archive
Marcus Weisgerber
Global Business Editor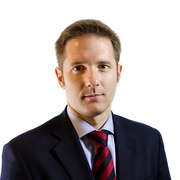 Marcus Weisgerber is the global business editor for Defense One, where he writes about the intersection of business and national security. He has been covering defense and national security issues for more than a decade, previously as Pentagon correspondent for Defense News and chief editor of Inside the Air Force. He has reported from Afghanistan, the Middle East, Europe, and Asia, and often travels with the defense secretary and other senior military officials.
Emerging Tech
The companies recently connected a military communications network to a commercial 5G network.
CIO Briefing
Former Air Force Secretary Deborah Lee James named chair of the diverse advisory board.
CIO Briefing
And the new service secretary is asking Congress to allow him to move faster yet.
---
Emerging Tech
The deal calls for Georgia-based Hermeus to accelerate development of reusable test aircraft.
IT Modernization
It could also allow contractors to build and modernize weapons they did not create.
CIO Briefing
A secure email system dubbed Gray Magic will replace the legendary analog technology.
CIO Briefing
New memos suggest office space occupancy may never return to 100 percent.
By

Marcus Weisgerber and Tara Copp
CIO Briefing
Former Pentagon acquisition chief has relevant experience defining threats and modernization needs, colleagues say.
By

Marcus Weisgerber and Tara Copp
Cybersecurity
A new clearinghouse has begun gathering and distributing information about threats to space networks, products, and services.
CIO Briefing
A flip remark drew some criticism, and a clarification.
IT Modernization
The service aims to accelerate its digitization by adopting product lifecycle management software already used by industry.
Emerging Tech
The Air Force acquisition chief says he keeps politics out of his work at the Pentagon — and that the U.S. will lose against China without agility.
Data
Officials say they're on pace to pass an audit…in 2027.
CIO Briefing
Christopher Miller becomes Trump's fourth acting defense secretary just 72 days before Inauguration Day.
By

Marcus Weisgerber, Bradley Peniston and Katie Bo Williams
CIO Briefing
As the nation waits for election results, some analysts are looking ahead.
Emerging Tech
CEO Taiclet wants a leading role as U.S. and allied militaries build out their next-gen mobile networks.
CIO Briefing
Ellen Lord says the bill would come to $10 billion to $20 billion.
Emerging Tech
Michael Griffin, defense undersecretary for research and engineering, and his deputy announced their July 10 departure in an email to staff.
CIO Briefing
The Defense Department is sending millions of dollars to keep companies afloat, and more deals are expected.
CIO Briefing
Despite the economic crisis, the industry has too much to do, and not enough people to do it.