How the Pentagon mobilized to support tech startups after bank failure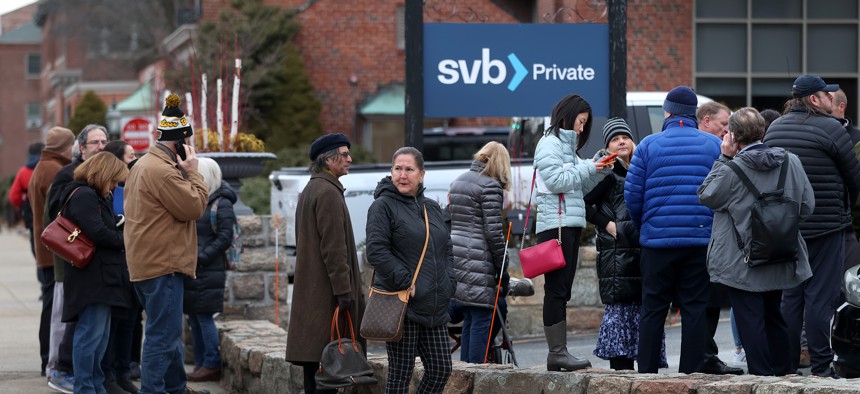 The failure of Silicon Valley Bank presents the Defense Department with warnings—and opportunities.
In the hours after Silicon Valley Bank collapsed on March 10, Pentagon officials who work directly with startups that develop national-security technologies grew increasingly concerned.
Would startups that had money in the bank need to stop work? If that happened, would there be supply-chain disruptions? Would a company under financial stress put its intellectual property at risk? 
Officials prepared different courses of action to get cash to companies, if needed.
"It was a busy weekend, for sure," Michael Madsen, acting director of the organization that acts as conduit between startups and the military, said Tuesday at a Reagan Institute event in Washington. 
No immediate action was needed. The Treasury Department stepped in on Sunday and said depositors with funds at Silicon Valley Bank would have access to their money.
"You know, I don't think it's a big concern of ours yet," Pentagon Comptroller Mike McCord told reporters Wednesday on the sidelines of the McAleese and Associations Defense Programs conference.
Had the Biden administration not acted quickly to back up account holder funds at SVB, the United States—and the national-security community in particular—would have faced a major challenge in supporting and growing innovative new technologies, Michael Brown, a venture partner at Shield Capital and former head of the Defense Department's Defense Innovation Unit, told Defense One. 
Had SVB collapsed, Brown said, it would have hit some of the companies that he works with very hard. "You're, you're a small company, you raise money from your venture backers; you don't maybe have revenue coming in yet and you can't make payroll if you can't access your cash balance? Yeah, it really would have been a horrific situation."
It was a long weekend for startups that had money in SVB as well.
"The time from when we heard about this to when we were actually locked out of our accounts was six hours," Eric Levesque, the co-founder and COO of strategic intelligence platform Strider, said at the Reagan Institute event. "I mean, if you didn't move super fast…you went into the weekend basically not sleeping at night. So I think we all woke up Monday morning with a big sigh of relief. But it was a very close call."
That sentiment was echoed by Joe Laurienti, the founder and CEO of propulsion tech company Ursa Major. "We were certainly impacted, though things turned around pretty quickly," he said. "So I think…today, operations are as usual."
The SVB collapse offers an "opportunity to really get serious about growing that connective tissue between the national security enterprise and the commercial capital markets…and show that we're good and sophisticated partners," Madsen said.
Brown, who previously ran the Defense Department's outreach to Silicon Valley, said the national-security implications of SVB depositors' funds vanishing would have gone well beyond the lost money. Many of the young startups that had funds in SVB were working on projects with clear defense and national-security applications. 
"You certainly would have seen the national-security implications for autonomy for AI, for cyber space, a lot of the sectors which are so vibrant right now and could be used to better effect by the Defense Department," he said. "It would be like cutting the [research and development] for all of those different companies. And you can imagine what happens, right? That means you're just living on your current product. And as soon as they run out, nothing's coming."
The Defense Department is requesting $17.8 billion in 2024 funding for research into emerging technology areas like artificial intelligence, autonomy, cybersecurity, and others. But much of that money is for developing capabilities that will only be available later in the decade, Brown said. The Pentagon has a real gap in fielding innovative technologies quickly, he said. 
"If you want to change the capability of the force near-term, you've got to be looking at buying lots of small things, which are what the commercial sector provides. We're seeing that put to great use in Ukraine right now. That's going to come out of the…sector that the venture capitalists are backing," Brown said.
And the relationship between those entities and a very small handful of key institutions like SVB is a big national-security concern, he said. "If you want to kind of knock out the seed corn for the next decade or two of innovative tech, much of which we need for the competition with China, [collapsing SVB] would have been a very effective blow. [Chinese President Xi Jinping and Russian President Vladimir Putin] would have been cheering to see so many companies fail."
But the SVB debacle is not just an alarm bell for the fragility of the U.S. startup community, it also presents an opportunity for the Defense Department. Laurienti said SVB occupied a very particular role in the start-up ecosystem, one that could be filled by the federal government or even the Defense Department. 
The bank provided "a mechanism where you don't need to go find investors, you can work with an institution like Silicon Valley Bank to finance that transition from prototyping to production. I think this is a huge opportunity for DOD and the federal government to find new forms, new mechanisms for financing that bridge," he said.
A growing number of startups were forgoing early-stage funding from China even before the Treasury Department made such funding harder, Brown said. "Given the awareness of China and how that's changed in the last six or seven years, many more small companies are aware that they shouldn't be taking any money from China, if they want to be selling to allied governments, us or other governments."
Audrey Decker contributed to this report.