Lawmakers Want to Ban Unauthorized Drones from Flying Over Stadium Concerts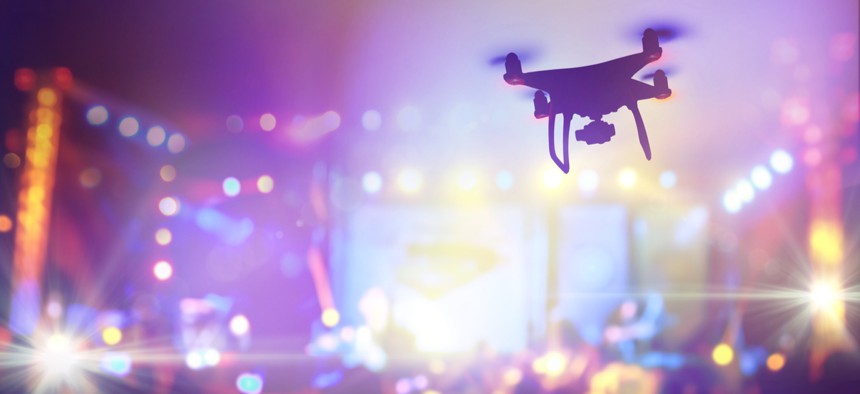 The FAA currently only issues temporary flight restrictions during sporting events, but a bipartisan group of senators wants to protect stadium skies during all types of events.
Lawmakers recently introduced bipartisan legislation to strengthen security in the skies above stadiums as more and more drones gain clearance to operate across America's airspace. 
The Stadiums Operating under New Guidance, or SONG Act, produced by Sens. Marsha Blackburn, R-Tenn., Ed Markey, D-Mass., and Lamar Alexander, R-Tenn., authorizes the Federal Aviation Administration to issue temporary flight restrictions over concerts and other events that take place at stadiums across the nation. 
"When patrons go to a stadium, they are protected by dozens of law enforcement on the ground," Blackburn told Nextgov Tuesday. "Given the way technology now enables drones to roam the skies, it is necessary to consider how we can protect that airspace."
Federal support and technological advancements have accelerated drone use over the last half-decade and in-sky congestion is only anticipated to get worse. Earlier this year, Google's Wing Aviation received federal approval to operate as a drone commerce airline and Amazon got the OK to test its own. The Postal Service also announced it's exploring introducing drones into its vehicle fleet and package delivery giant UPS received approval to operate the first national drone airline system that's unlimited in size and scope. But while it's an exciting time for commercial and personal drone use to blossom, it's also ushered in a new paradigm of airspace dangers and challenges. Alleged drone sightings near the runways of London's Gatwick Airport disrupted the flights of about 140,000 passengers and closed the airport for 33 hours last December.
Blackburn shared a copy of the new one-page bill with Nextgov and explained that although it does not implement any new restrictions, it offers the FAA greater authority to issue temporary flight restrictions, or TFRs. Currently, the statute that enables FAA to grant TFRs is limited to sporting events in stadiums, so the temporary restrictions are routinely issued for NFL and MLB games, as well as NASCAR events and NCAA Division One football games.
"When a music concert is held in the very same stadium, often with the same size or a bigger crowd, the air space cannot be secured by a TFR," Blackburn said. 
The SONG Act aims to correct that limitation and enable FAA to issue TFRs for entertainment events outside of sports that occur at these same venues. Policy experts worked with the FAA to carefully craft the legislation and Blackburn added that she was inspired to propose the bill after concerns were raised directly by her constituents. 
"We have heard from tour companies and entertainment industry managers in Tennessee that were denied TFRs despite working closely with the FAA," Blackburn said. "In one instance, a music organizer tracked down three illegal drones flying directly over crowds."
The ultimate hope, she said, is to enhance public safety. It's a target that likely resonates with drone industry insiders who are also working to advance the space. 
Jeff Thompson, the CEO of Red Cat, a provider that offers distributed data storage, analytics and services to boost drone performance and make the systems more trackable and accountable, noted that while thousands of airplanes make up the United States' commercial fleet, it's anticipated that there'll eventually be millions of drones occupying that same airspace. 
"It's going to be 10x the amount of drones in the air than traditional airlines," he said. 
On top of commercial entities like UPS and Google, hobbyists and racing competitors are flying drones, and other industrial entities like agriculture-based and gas and oil companies are also operating large fleets. Thompson said the majority of those who want to responsibly employ drones welcome federal support that will enable them to fly safely and properly. 
"If we can get more and more guides, goal posts and regulations, so that we know what we are allowed to do, we can make the technology work really well—and make it more accountable, reliable and safe," he said. 
A companion measure was also introduced to the House of Representatives in July.