Aviation Safety Bill Targets Challenges Posed by Flight Automation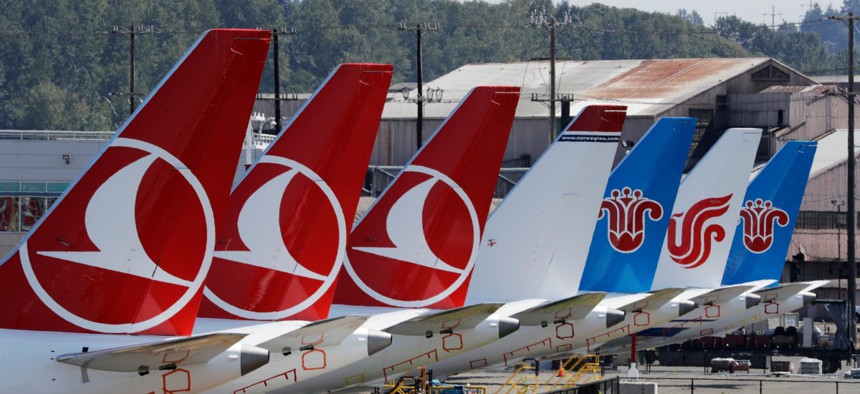 It comes on the heels of two tragic commercial aircraft crashes that killed 346 in the last year.
Two senators penned legislation to directly address challenges around the automated systems that contributed to two separate crashes of Boeing 737 Max 8 aircraft that occurred over the last year, killing hundreds and grounding Max flights indefinitely.
The Aviation Automation and Human Factors Safety Act of 2019, introduced Thursday by Sens. Maria Cantwell, D-Wash., and Tammy Duckworth, D-Ill., aims to establish a Federal Aviation Administration Center of Excellence dedicated to addressing dangers posed by increased automation and pilot response and also implements new and old aviation safety recommendations targeting flight automatics. 
"As we continue to learn more from the multiple investigations into Lion Air Flight 610 and Ethiopian Airlines Flight 302, clear opportunities to improve aviation safety and protect the traveling public have emerged," Duckworth said in a statement. "We have a solemn obligation to the families of the 346 individuals who lost their lives to learn the lessons of these tragedies and prevent such events from ever occurring again."
Last October, Lion Air Flight 610 plummeted into the Java Sea, minutes after taking off from Jakarta, Indonesia. In March, Ethiopian Airlines Flight 302 also crashed shortly after takeoff. Everyone on board both flights perished in the crashes. Black box data from both aircraft suggests that the deadly incidents were partially due to a newly introduced automated system, known as the Maneuvering Characteristics Augmentation System, or MCAS, which many pilots struggled with or knew little about when the crashes occurred. 
In September, the National Transportation Safety Board published seven safety recommendations informed by its investigation of both incidents. Cantwell and Duckworth's act would mandate the FAA's implementation of the board's recommendations. The bill would improve safety assessments and incorporate design enhancements to boost pilots' understanding and ability to work with automated systems and components on all Boeing 737 Max aircraft, specifically, as well as other transport-category airplanes. The aim is "to minimize the potential for, and safety impact of, pilot actions that are inconsistent with manufacturer assumptions."
The legislation also calls for the development of tools and methods that use insights from industry and human factors experts to improve the validation of pilots' assumptions using the technology, as well as diagnostic tools to help accelerate pilot responses when systems fail. On top of NTSB's suggestions, it also seeks to implement recommendations from the Transportation Department Inspector General's 2016 report aimed at reducing dangers associated with the increased use of flight deck automation. 
If passed, the aviation safety act would also institute the creation of an FAA Center of Excellence to be "focused on flight automation and human factors in commercial aircraft." The center could receive appropriated funds that the FAA administrator deems necessary. It would be tasked with enhancing collaboration across the government, academia and the commercial aircraft and airline industries and also lay out research goals in areas relating to the increased reliance on automation in commercial aircraft. 
The bill also mandates the establishment of safety management systems for aircraft manufacturers. Cantwell noted that she'll consider additional legislation, based on her ongoing review of forthcoming recommendations from those investigating the crashes. 
"As aviation systems become increasingly complex and rely more on automation, our manufacturers and federal regulators need to remain on the cutting edge of innovation to keep travelers safe." Cantwell said. "The flying public deserve nothing less."
Cantwell serves as ranking member on the Senate Commerce Committee, which, on Tuesday is asking Boeing's CEO about the two crashes.