CBP Plans to Use Facial Recognition For 'All Passenger Applications'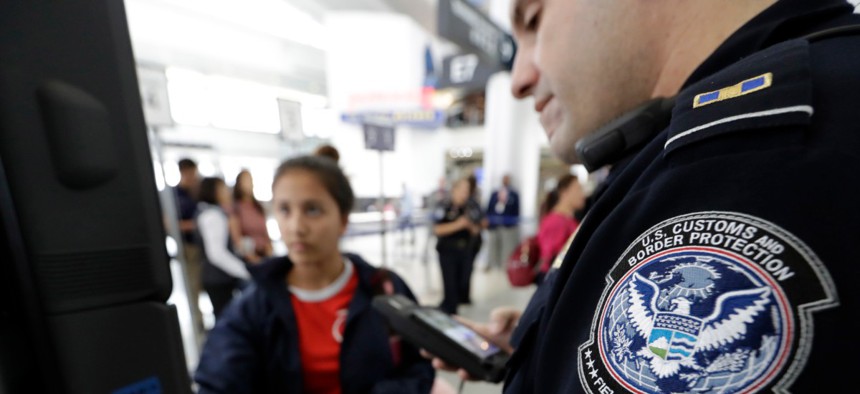 The agency is ramping up its use of biometric identification technology as part of a broader effort to overhaul its traveler processing systems.
Customs and Border Protection plans to significantly ramp up its use of facial recognition technology as part of a broader effort to upgrade its systems for vetting international travelers.
In addition to expanding its biometric capabilities, the agency is also working to migrate all of its traveler processing tech to the cloud, create more self-service tools for the public and let officers use mobile devices to verify people entering the country, officials said in a draft solicitation published Thursday. 
CBP is looking for a vendor to assist with those upgrades and support "the full range of life cycle services" for other traveler processing applications and equipment, according to the document. The contract is scheduled to begin in December and could potentially run through May 2025.
According to the document, expanding CBP's use of biometrics will be a major component of the modernization effort. 
The agency already uses facial recognition technology to keep tabs on international travelers at more than a dozen nationwide airports and multiple checkpoints along the U.S.-Mexico border. But despite the recent backlash against federal law enforcement's use of the tech, CBP officials expect to deploy facial recognition and other biometric identification tools more extensively in the years ahead.
"The paradigm will evolve from biographic data focused to biometric data centric," officials said in the solicitation. "A biometric-based approach allows threats to be pushed-out further beyond our borders before travelers arrive to the U.S." 
"Integration of facial recognition technologies is intended throughout all passenger applications," they added. 
A CBP spokesperson told Nextgov the contract would allow for facial recognition software and cameras to be implemented "in any environment," though the solicitation itself doesn't set any specific policies. Last month, CBP Deputy Executive Assistant Commissioner John Wagner told lawmakers the agency "is aggressively moving forward in developing a comprehensive biometric exit system in the land, air and sea environments."
CBP expects to release the final solicitation in the coming weeks and award the contract in early 2020, the spokesperson said.
Privacy and civil rights advocates have long pushed for more restrictions on the government's use of facial recognition, arguing that without stricter rules, law enforcement agencies would deploy the tech for increasingly intrusive purposes. 
CBP officials often defend their use of facial recognition by citing its convenience for travelers and emphasizing the narrow scope of the agency's current deployments. But expanding biometric identification beyond airport terminals to every person entering and exiting the country would play into many of its critics' longstanding fears.
"It's just a powerful surveillance tool ... with no rules in place," Jeramie Scott, director of the Domestic Surveillance Project at the Electronic Privacy Information Center, told Nextgov in May. 
"There is potential for abuse because there's not really the rules in place to make sure [CBP's use of facial recognition] remains narrow."
The Transportation Security Administration is also in the early stages of rolling out facial recognition software for domestic travelers, and the Homeland Security Department is in the process of upgrading its enterprisewide biometric identification capabilities.
In the solicitation, officials included a lengthy list of applications and programs they would expect the selected vendor to support, many of which at least partly relied on biometric technology. 
According to the document, the agency plans to replace the system officers currently use to check travel documents with an application that relies on biometrics. The Simplified Arrival platform, which uses facial recognition software to verify the identity of everyone flying into the country, is already up and running at 15 domestic and international airports, a CBP spokesperson told Nextgov.
"Capturing facial biometrics of all passengers adds additional security, as currently there is no biometric verification of U.S. Citizens, most Canadians, citizens of a few other countries and travelers who are exempted for other reasons such as age and class of admission," officials wrote. "Using facial matching as the primary biometric verification modality provides a previously unavailable method to verify and facilitate travel for almost everyone."
CBP also plans to replace the physical kiosks used for the Global Entry program with "a facial recognition solution." 
While biometric identification technology is a major component of CBP's IT overhaul, the solicitation indicates the agency also plans to ramp up its efforts in other areas, like cloud migration, mobile capabilities, cybersecurity and customer self-service.
Officials aim to have all of the agency's traveler processing and vetting applications housed in the cloud by 2024, the solicitation said, and they also want to allow "officers to admit or refer travelers using mobile technology."
"The future of CBP relies on modern technology," officials said. "To be successful, officers and agents need tailored, intuitive, and advanced capabilities to anticipate and combat emerging threats."
Editor's note: This story was updated with comments from CBP.