GSA Testing Tool to Ensure Tech Projects Meet Accessibility Rules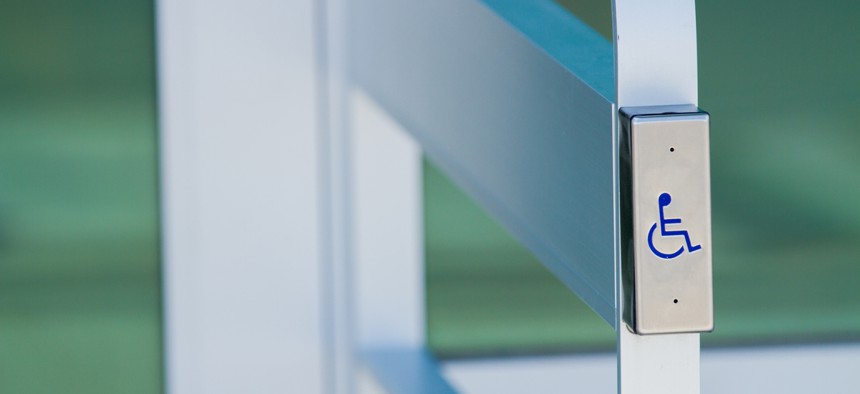 A government-built AI tool to ensure compliance with accessibility mandates is headed for the user testing phase before going governmentwide this fall.
Federal agencies are mandated by law to ensure any products or services offered—online or otherwise—are accessible to people with disabilities. By September, agencies will have access to a government-built artificial intelligence tool that ensures solicitations to buy or help build digital services include accessibility requirements.
"It's our government's mission to ensure that the products that the government builds are accessible to those 16 million" Americans with disabilities, Marina Fox, program manager for the DotGov Domain Service at the General Services Administration, who is leading the effort to develop the Solicitation Review Tool.
However, a manual review of about 1 percent of solicitations issued over a decade showed only 10 percent contained sufficient language to ensure compliance with Section 508, the regulation that outlines accessibility mandates.
"The result is the product gets built, the website gets built, and it's not accessible to, let's say, a blind person. Then, the best case scenario is it gets caught and gets corrected," Fox said Thursday at the Government Analytics Breakfast Forum hosted by Johns Hopkins University and REI Systems. "Worst case scenario: an advocacy group finds it, files a complaint, there's a class action suit, the Department of Justice has to go defend the agency—it's happened to GSA before, it's happened to HHS before, it's happened to other agencies."
Fox said lawsuits stemming from noncompliance led to approximately 140 settlements in 2012 alone.
"This is a big deal and it all starts with solicitation quality," she said.
So, Fox's team sought to build an AI tool that could scan the 500 IT- and communications-focused solicitations posted to FedBizOpps each day for the necessary language.
"When it came to the Solicitation Review Tool, it wasn't born as, 'Let's do something AI,' or, 'Let's do something innovative,'" she said. "It clearly was something that we had no other way to accomplish."
The resulting review tool scans all those new solicitations for key language that shows the contracting officers have accessibility in mind. If a solicitation lacks that language, the bot finds the point of contact and sends them a message detailing the specific issues.
But it's more than just a keyword search, Fox said.
"When I say we're scanning, it doesn't mean we're just doing a pure word search. We are using natural language processing, but this is algorithm based. We are using 17 different algorithms as part of the decision as to whether something is compliant or not."
A prototype was built in-house using cloud-based development platforms and trained using a predictive model based on 10 years of compliance reviews—done manually at the time—on some 4,000 solicitations.
The team soon realized sending contracting officers an email with a convoluted spreadsheet wasn't going to be useful, Fox said. So, they built a front-end dashboard that highlights problem areas in a way that's easy to visualize.
The backend algorithm and dashboard are out of development and now reside on Cloud.gov, where it will be able to scale governmentwide when finished. After a few more tweaks, the tool will go through large-scale user testing beginning in July, Fox said. The final testing phase starts with four weeks letting government contracting officials try out the tool, followed, potentially, by a soft launch with about 10 agencies, she said.
If the timeline holds, the tool will launch governmentwide in September.
But Fox and the team are already looking beyond launch. In the near future, Fox said the team wants to incorporate AI and neural networks to offer suggestions for editing problem solicitations to ensure the end products are compliant.
"Instead of sending it to the expert and saying, 'Add the language,' we're saying, 'Here's the language to add,'" she said.
Even further out, the team is looking at ways to ensure Section 508 language is included from the outset, rather than finding issues after solicitations are posted on FedBizOpps. However, that will require access to non-public information, which will mean additional security and interoperability issues that have yet to be worked out.