The Army Wants Virtual Health Tech That Works Under Any Conditions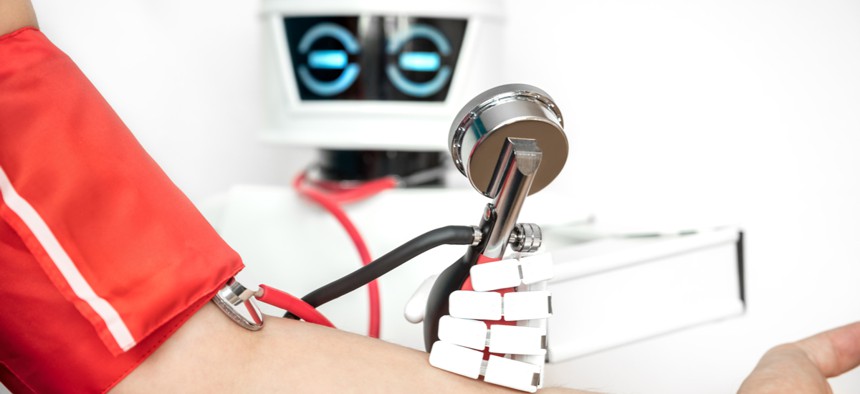 The future of war will be more isolated, meaning Army medics need the ability to be present virtually when they can't get there physically.
A new office within the Army, the Virtual Health Research Task Area, has been charged with looking at how virtual health capabilities are advancing and how those technologies can be deployed on the battlefield.
The new research area sits under the Medical Simulation and Information Sciences Research Program's Medical Assist Support Technologies function was funded in the 2019 and is "expected to facilitate cutting edge, next-generation scientific studies to promote significant innovation in the applied, state-of-the art research in virtual health technologies and approaches … to dramatically advance direct and indirect support for point of injury trauma care and prolonged field outcomes," according to a notice posted to FedBizOpps last week.
The sources-sought notice cites several use cases currently deployed throughout the military and Veterans Affairs Department hospitals, such as remote patient monitoring, physician peer-to-peer mentoring and real-time video consults. Unfortunately, that's not what the Army needs.
"The vast majority of these efforts are targeted around mature, fixed facility operations and access to continuous, high bandwidth connections that will NOT be available in the future, [multi-domain battlefield] environment," the request for information states.
The future state of war will include contested bandwidth—making internet and network access more difficult—and "greater dispersion and near-isolation over great distances," according to the notice. "Combat units will need to be more self-sufficient and less dependent on logistical support."
To prepare for this reality, the Army is looking for solutions that mix "traditional point of injury health care delivery" with virtual health technologies.
Eventually, that tech should be advanced enough to enable remote clinicians to weigh in on medical issues and have direct interaction through "semi-autonomous and closed loop medical devices," the RFI states. Communications capabilities should range from video on the high end to text messaging on the low end.
"An awareness of how virtual health can exist in each of these phases will provide a critical understanding to supporting the ever-evolving bandwidth, network and field conditions in war," it says.
Contracting officers said the scope of the RFI was left purposely broad in order to solicit a wide range of options and encourage responses from vendors with next-generation technologies. The Army is also interested in hearing about novel approaches to security and uptime assurance to counteract electronic warfare and similar threats.
Vendors with potential solutions are encouraged to respond to the RFI by email no later than 5 p.m. April 16.