DHS Funds Airport Navigation App that Guides You from Check-in to Gate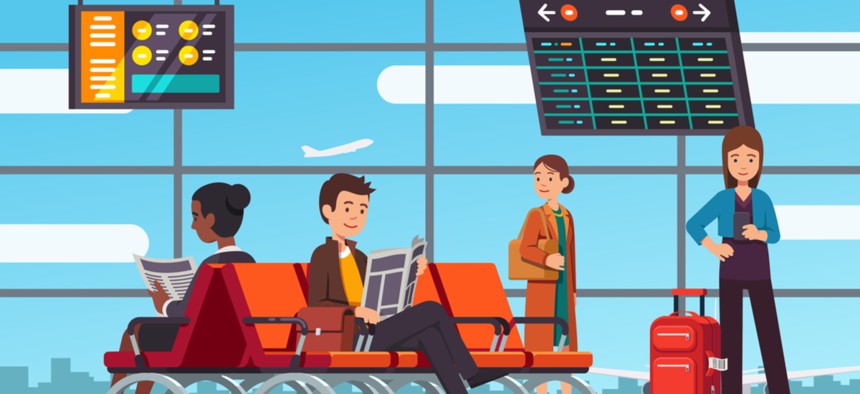 It also allows federal agencies to send messages to passengers in real time.
The Homeland Security Department is investing in technology that helps air travelers navigate airport security and gives federal agents a direct line of communication with passengers.
The agency's Science and Technology Directorate awarded a nearly $120,000 contract to LocusLabs to adapt their airport navigation application for Transportation Security Administration and U.S. Customs and Border Protection.
The smartphone app would give passengers real-time location information and guide them from curb to gate using Google Maps-style directions. It would also let agencies immediately get in touch with everyone at the airport.
"This platform becomes a basis for a whole segment of smart building applications, like visitor wayfinding, asset tracking [and] staff dispatch," said LocusLabs CEO and co-founder Campbell Kennedy told Nextgov. Instead of relying on physical signs and personnel to direct passengers, CBP and TSA can use the app to communicate through maps and personalized push notifications, he said.
The system would also help manage the flow of traffic through each segment of the airport.
Wait times at security and customs checkpoints are notoriously inconsistent, so planning for air travel requires a decent amount of guesswork, Kennedy said. But by analyzing GPS information and data feeds from Homeland Security, the app can calculate accurate wait times and point travelers to the fastest lanes to prevent them from clogging certain areas, he said.
The tool will also provide handicap-accessible routes and details on airport restaurants and shops, said Kennedy. And if it looks like you might miss your flight, it'll even let you know to pick up the pace, he added.
The award came through the Homeland Security's Silicon Valley Innovation Program, an in-house startup incubator that invests in technologies with national security applications. Kennedy said the company will spend roughly six months building a working prototype with CBP and TSA, and then launch a pilot program at Seattle-Tacoma International Airport.
Separately, LocusLabs is also piloting an augmented reality navigation tool at Dallas-Fort Worth International Airport and London's Heathrow Airport, according to Kennedy. By tapping into people's smartphone cameras, the app would overlay directions and other helpful information directly their screens, he said.