Fuzzy Space Law Is Forcing the U.S. to Update its Orbital Regulations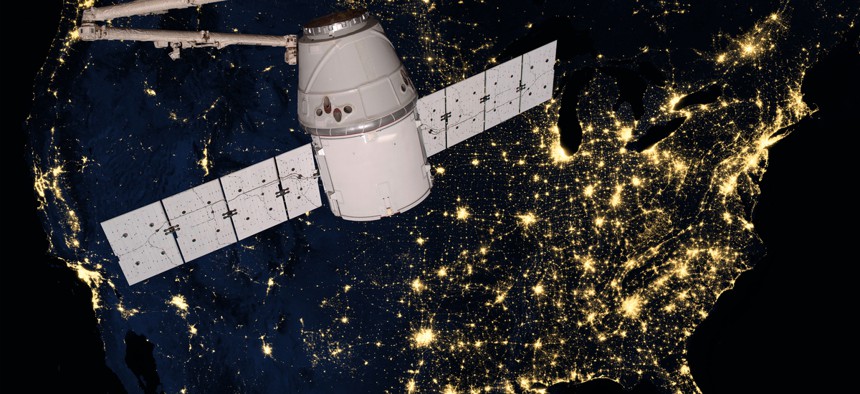 The U.S. government is promising space companies it will make it easier for them to get into space by boosting its long moribund "Office of Space Commerce."
After U.S. regulators belatedly forced SpaceX to shut off video cameras on its rocket during a March launch despite years of such broadcasts, Secretary of Commerce Wilbur Ross said it was time to update the 25-year-old rules about space cameras. Ross supervises the National Oceanic and Atmospheric Administration, which oversees U.S. companies that observe Earth from space.
"This is silly and it will stop," Ross told an audience of space industry executives, policymakers and military officers at the Space Symposium in Colorado Springs, Colorado, backing the view of SpaceX and other rocket companies that the cameras on its rockets aren't the equivalent of satellites dedicated to Earth views.
Ross said that his department's various space regulatory responsibilities would be consolidated into an Office of Space Commerce under his direct supervision, including the rules governing remote earth sensing, satellite export and international coordination on satellite spectrum. The Trump administration also intends to give the office responsibility for space traffic management and space situational awareness, moving those jobs from military to civilian hands.
Earlier this year, the first satellites were launched without any government's permission after U.S. regulators said they were not big enough to be tracked by U.S. government radars, another sign of the pressure space companies are putting on regulators to keep up with them. Meanwhile, a number of businesses are proposing huge new satellite constellations, which will make oversight over collision prevention and disposal of old satellites even more critical.
Under this new U.S. vision, the Federal Aviation Administration will continue to license commercial rocket launches, and the Federal Communications Commission will still license the use of satellite radio spectrum in the US.
Ross said the goal is for the U.S. to be the "flag of choice" for businesses working in space. Vice President Mike Pence, who chairs the National Space Council intended to coordinate extra-terrestrial policy across government, made similar comments April 17.
The question for space executives, who have clamored for more responsive government when it comes to licenses for launches and satellite operation, is whether increased funding will accompany the shifting responsibilities.
Speeding up bureaucracy means hiring more people, and projects like space traffic management demand investment in the technology to detect and track objects in orbit. While the Trump administration had adopted lofty rhetoric around its support for space business, it's not yet clear that the White House has the needed clout to win congressional support—and federal dollars—for its proposals.
"It's great to see this being focused on at high levels," says Phil Larson, an assistant dean at the University of Colorado's engineering school and a director of the Space Foundation. "The important question, though, is will the implementers be on board?"
Congress has largely ignored the White House's space budget in the last two years, but that may change if Trump's controversial nominee for NASA administrator Jim Bridenstine is confirmed in a vote expected later this week. His confirmation might signal more consensus on space policy, and will give the White House a key advocate for its approach to space.