Drone Technology Is Now Dangerous Enough to Kill For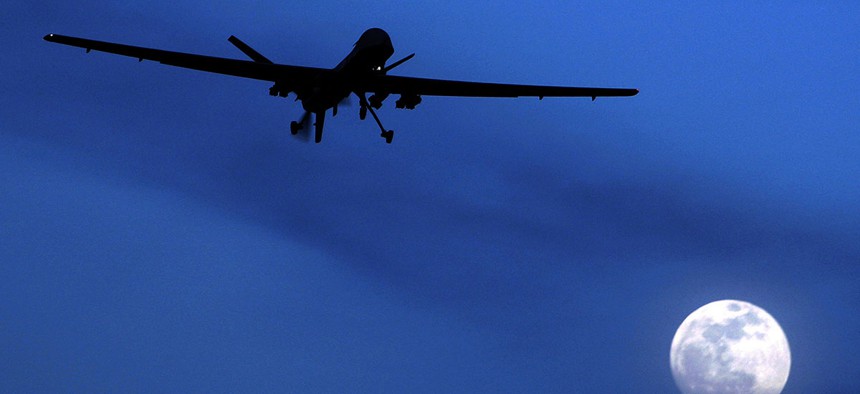 There are certain classes of technology that, by their nature, put those who possess their secrets in danger: Nuclear weapons. Ballistic missiles. Advanced encryption software.
Now, add unmanned aerial vehicles—drones—to that list.
A Palestinian electrical engineer who had published research on drones was assassinated in Malaysia, the Wall Street Journal reported. A helmeted person on a motorcycle fired 10 shots at 35 year-old Fadi al-Batsh, killing him as he walked to a mosque for morning prayers.
Palestinian militant organization Hamas blames Mossad, the Israeli intelligence service, for al-Batsh's death, and celebrated him as a martyr. Al-Batsh's family said he was not involved with Hamas, but also blamed Israel for his death. Israel's hard-right defense minister, Avigdor Lieberman, said al-Batsh was "no saint," but denied Israeli involvement, suggesting al-Batsh died in intra-Palestinian skirmishing.
Al-Batsh received his doctorate from the University of Malaysia in 2015, and had published papers on extending the power supply in unmanned aerial vehicles, as well as on electrical grids and renewable energy more broadly.
Israel has also been linked to the 2016 killing of Mohammed al-Zouari, a Hamas member who reputedly supervised the organization's drone initiatives. Unmanned aerial vehicles have been used by Hamas to attack Israel, and experts believe that drones could be used to bring missiles inside Israel's "Iron Dome" air defense system, which defends the country from artillery and rocket attacks, or simply to track the movements of Israeli forces.
Drones have been regularly used by advanced militaries since the 1970s for surveillance and precision military strikes. In the past two decades, they have become a vital part of the U.S. wars in the Middle East.
Now, advances in consumer electronics are making drones available to armed forces without the resources to hire billion-dollar defense contractors. Hamas has used drones inside Israel for several years, and ISIS militants used consumer drones to drop grenades on U.S. allies in Syria. Last year, FBI director Christopher Wray warned Congress that terrorists could soon use drones inside the U.S.
That makes anyone with the know-how to construct or weaponize drones an unusual threat—unusual enough for Israel's intelligence service to allegedly take the aggressive step of killing in a foreign country. Less violently but for with similar motivation, the U.S. Army banned the use of drones built by the Chinese company DJI in 2017, fearing they could be used to spy on American activities.
Drone tech is hardly the first military advance to compel paranoia and murder among governments, but it might be the first one that your kid can buy off the shelf without a license.