Did SpaceX or Northrop Grumman Screw Up a Secret Satellite Launch? It's Classified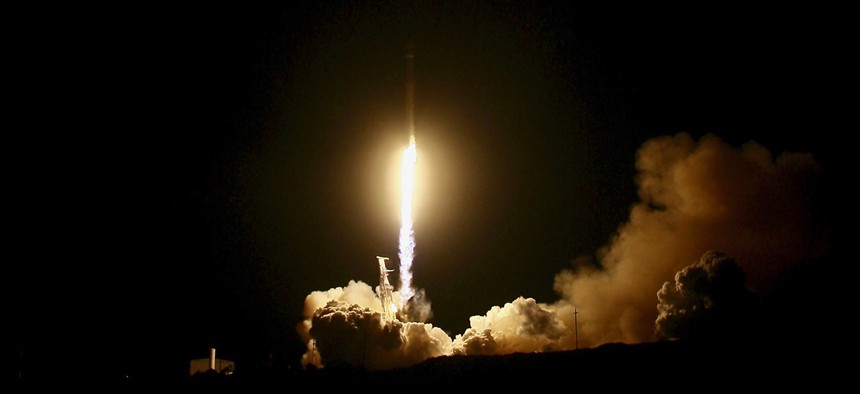 Few people know what SpaceX launched into space on Jan. 7 when a Falcon 9 rocket carried a secret satellite called Zuma to orbit. Now, anonymous sources say that the satellite has failed or fallen to earth—but the real story may have nothing to do with SpaceX at all.
The mystery satellite hasn't been publicly claimed by any US government agency or branch of the military. It was constructed by Northrop Grumman, the major aerospace contractor, which tapped SpaceX for its launch.
Unnamed government officials have told the Wall Street Journal and Reuters that the satellite failed to separate from the second stage of the rocket carrying it into orbit, with one saying that the satellite is "a write-off."
Such a failure to separate could be blamed on the rocket. SpaceX president Gwynne Shotwell issued a statement this morning (Jan. 9) refuting such allegations, writing that "after review of all data to date, Falcon 9 did everything correctly on Sunday night. If we or others find otherwise based on further review, we will report it immediately. Information published that is contrary to this statement is categorically false. Due to the classified nature of the payload, no further comment is possible. Since the data reviewed so far indicates that no design, operational or other changes are needed, we do not anticipate any impact on the upcoming launch schedule."
The Falcon 9's first and second stages separated successfully, with the first returning to Earth to land back at Cape Canaveral.
SpaceX's outspoken CEO Elon Musk hasn't commented on the reports, but has shared photos of the flight, as he often does following a successful mission. SpaceX is also pressing ahead with another rocket launch later this month, which would be unlikely in the event of a launch failure. When SpaceX encounters problems with its systems, the company's engineers scramble to solve them and then convince the Federal Aviation Administration and other regulators that their vehicle is good for launch.
Northrop Grumman, meanwhile, has declined to comment on the launch. It, too, may be carrying some egg on its face: According to documents obtained by Wired's Robin Seemangal, Northrop built a custom adapter to mate the payload to the Falcon 9, rather than use SpaceX's standard interface. In that case, a failure could be pinned on Northrop, too.
The confusion doesn't stop there. The US Air Force database of satellites, which is publicly available to help operators protect their constellations, reported a new US satellite registered on its scanners the day after launch, suggesting that Zuma made it it to orbit for at least a short time. The details of that orbit are redacted, as they would be with most secret satellites. This wouldn't be the first time the US government has lied about a spy satellite's failure to preserve its secret mission.
One Dutch amateur astronomer who tracks secret satellites, Dr. Marco Langbroek, shared photos from a pilot that appear to show the Falcon 9's second stage venting fuel prior to re-entry, a standard procedure to minimize environmental harm that may suggest a normal flight.
This is the image taken by Dutch pilot Peter Horstink, from his aircraft over Khartoum near 3:15 UT, 2h 15m after launch.
This is probably the Falcon 9 venting fuel.#Zuma pic.twitter.com/EEsl7e1sQP

— Dr Marco Langbroek (@Marco_Langbroek) January 8, 2018
Some of the speculation surrounding Zuma was that its mission was to maneuver with other satellites, potentially near the International Space Station, like another classified satellite launched in June 2017. It's possible that something went wrong with the technology the satellite was designed to demonstrate after launch, contributing to a failure.
We may not know the truth for decades, until whatever program Zuma is part of is declassified, but if the recriminations over the mission are pulled into high-stakes debates over defense contracts, congressional aides may reveal further details ahead of time.