1 Million Drones, Operators Register to Fly in US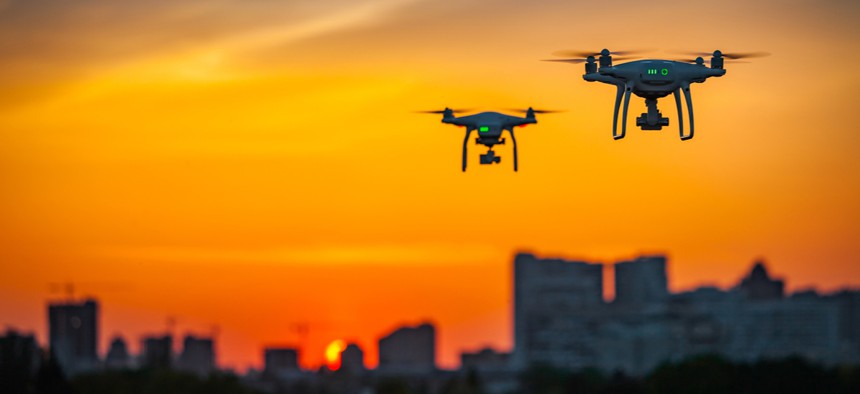 After a brief hiatus this year, the FAA reports more than 1 million drone operators have registered with the U.S. government.
U.S. airspace is getting a little more crowded. 
The Federal Aviation Administration recently announced its unmanned aerial systems registration portal has surpassed the 1 million mark, signifying growing popularity in commercial, recreational and public sector drone use.
The registration system first came online in December 2015, when hobbyists were told to begin signing up. Commercial users were able to register beginning in March 2016. However, a court overturned FAA's rule in May 2017, putting a brief hiatus on mandatory registration.
People continued to register voluntarily afterward, a FAA official told Nextgov, until a provision in the 2018 National Defense Authorization Act made it a requirement once again in November. More than 42,000 operators signed up since December, the official said, finally putting the registration list over 1 million.
With the rule back in place, operators of drones weighing between 0.55 pounds and 55 pounds—including payloads, such as cameras—have been required to pay a $5 fee and register with the FAA. Since that time, some 878,000 hobbyists have registered to fly. (Amateur flyers and hobbyists need only register once, no matter how many drones they own.)
Another 122,000 drones have been registered by commercial flyers and public sector entities, such as the Interior Department.
"The tremendous growth in drone registration reflects the fact that they are more than tools for commerce and trade, but can save lives, detect hazardous situations and assist with disaster recovery," Secretary of Transportation Elaine L. Chao said of the milestone. "The challenge is to remove unnecessary hurdles to enable the safe testing and integration of this technology into our country's airspace."
While drone flyers do have to register, the Trump administration has taken other steps to decrease regulations around unmanned vehicles. This included opening up "drone innovation zones" last year, where operators can break certain FAA restrictions, such as flying at night or beyond the visual sightline.
"The partnership between the FAA and CSRA has enabled Americans to quickly and easily register their drones as this technology has exploded onto the landscape," said Vice President John Ludecke, head of CSRA's Civilian Agencies Group, which designed and manages the registration system. "This is an exciting milestone, and we look forward to continuing to provide an 'easy button' for Americans to register this burgeoning technology."