Survey: 42% of Feds Say Increasing Workloads Merit More Automation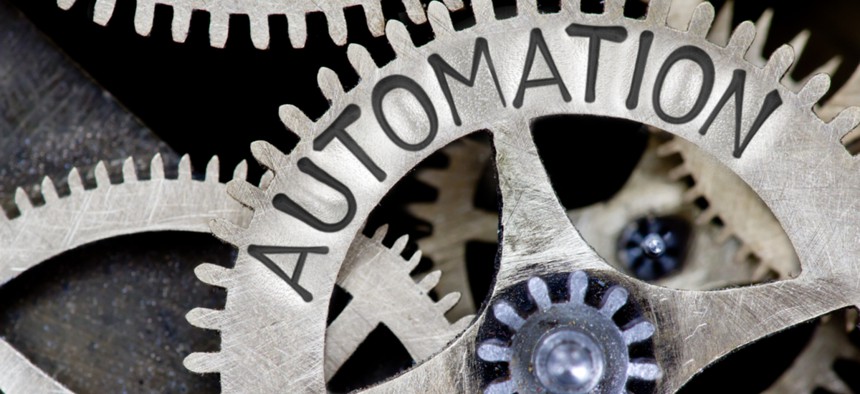 More than 75 percent of respondents said they spend at least a quarter of their workday on tedious administrative tasks.
With workloads increasing and workforces downsizing across government, more than 40 percent of federal technology officials believe they need to automate more processes within the next year to keep pace with agency demands, a recent survey found.
Almost four in five respondents said they need increased automation in the next five years.
More than three-quarters of survey respondents also reported spending at least a quarter of their day on manual, administrative tasks like building datasets and submitting requests, and one-third of them still hand-deliver paper files to each other. Fewer than one in five agencies currently use advanced automation services.
» Get the best federal technology news and ideas delivered right to your inbox. Sign up here.
The online survey, conducted by Market Connections in September and paid for by ServiceNow, included 150 federal employees who play a role in choosing administrative technologies or processes. It found that while smart technology has become a ubiquitous part of many people's lives, government employees still find themselves spending a significant amount of time on manual tasks in the workplace.
The most common manual task employees performed was emailing updates, requests and approvals, followed by updating spreadsheets and electronic documents. Almost 60 percent said IT management was the most automated process in their agency, and 28 percent called customer service their organization's least automated process.
The survey comes as the Trump administration continues to push for both a more efficient government led by a smaller federal workforce. As demand for services goes up and the supply of workers goes down, the need for automation has grown increasingly pressing.
Two-thirds of respondents believe that the government will see an increase in human error if it doesn't begin implementing more automation. More than half also said maintaining the status quo will lead to lower employee productivity and higher costs from maintaining legacy systems.
Legacy systems are seen as the biggest barrier to bringing automation to the executive branch, with 42 percent of people saying their agency would hesitate to replace systems it had heavily invested in.