Election security threats require more federal resources, officials say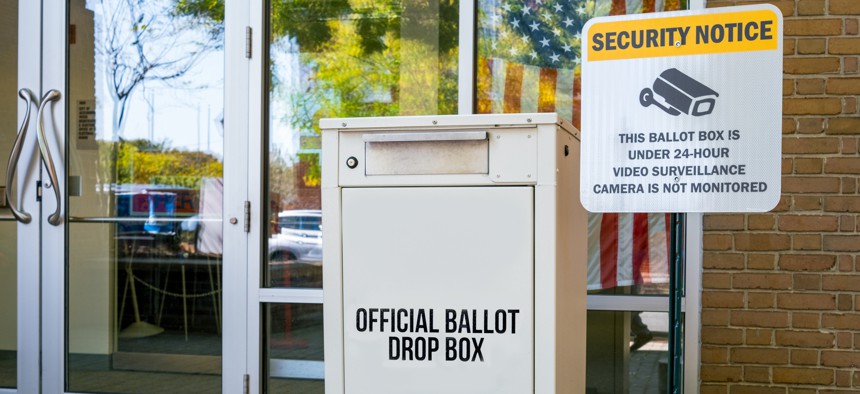 Facing growing cyber and physical threats, election administrators told lawmakers that more federal assistance is needed to safeguard voting systems and personnel.
State and local election officials warned during a Senate Rules and Administration Committee hearing on Wednesday that nefarious uses of emerging technologies, hacking attempts and the harassment of election workers risk undermining the public's faith in the accuracy of U.S. elections without more federal intervention.
Since the 2020 presidential election, Arizona Secretary of State Adrian Fontes said his state has live-streamed equipment certifications to promote transparency and worked with the National Association of Secretaries of State and federal agencies to instill trust in the voting process. But he added that "there's still more that can be done" at the federal level, including providing local jurisdictions with more election-related funding and guidance to safeguard their systems and personnel. 
He said artificial intelligence, for instance, "has the potential to confuse voters and wreak havoc on the administration of elections," including allowing deepfakes of election officials to spread misinformation on social media.
"If I were to go on TV afterwards, or even Instagram Live, to debunk these deepfakes, who would know which was the real me?" he added. "Foreign actors from hostile states such as Iran, China, Russia and North Korea appear ready to take advantage of this nightmare scenario."
Lingering conspiracies about the accuracy of U.S. elections are also resulting in new challenges for election officials. Some jurisdictions are being overwhelmed with what Fontes called "analog" distributed denial-of-service — or DDoS — attacks, which he said "comes in overly voluminous and unnecessary public records requests that have absolutely nothing at their end."
"We hear of a DDoS attack against an electronic system where hackers will come in and absolutely flood a system with digital attacks," Fontes said, adding that he supports rigorous transparency but that these types of constant requests often represent "a coordinated effort to undermine the democracy that upholds our republic."
While not all officials at the hearing voiced support for more federal involvement in the voting process or expressed concerns about the intimidation of election workers, there was near-unanimous agreement about the need for more cyber-specific resources. 
Alan Farley, administrator of elections for the Rutherford County Election Commission in Tennessee, said he favors local control over elections, but added that "cybersecurity is something that we have no role in, so I think that's very important that the federal government take an active role — especially funding — because we're doing great today, but tomorrow is a different day."
Farley said the Cybersecurity and Infrastructure Security Agency's Elections Infrastructure Information Sharing and Analysis Center — or EI-ISAC — is a great resource for local election jurisdictions looking to bolster their cybersecurity, adding that his county's biggest concern is "making sure that we're being able to mitigate any and all phishing attempts" targeting election officials' email accounts. But he said more resources are needed to modernize voting-related systems. 
"If you truly want to secure elections in our nation, invest federal dollars in building a stronger information technology structure at the local level," he added. 
Wayne Bena — Nebraska's deputy secretary of state for elections — said his state has implemented multi-factor authentication on voting systems and officials' computers and installed an intrusion detection device, known as an Albert sensor, to monitor for any suspicious activity in the state's voter registration system. But he said officials are still eager to follow the lead of their federal partners in continuing to enhance their cyber safeguards. 
"It's very important as election officials to challenge CISA and other federal agencies in charge of our cybersecurity efforts to say what's next," Bena said. "We don't want to rest on our laurels. We want to find out what's the next thing that we need to do so that we can stay ahead of the threats that we are facing."
Even as state and local officials work on bolstering their election infrastructure, however, growing harassment of election administrators presents a growing concern. These threats have led to an exodus of veteran election workers across the country — particularly in battleground states — that some witnesses warned could further erode trust in the validity of election results.
Elizabeth Howard — deputy director of the elections and government program at the Brennan Center For Justice — told lawmakers that a survey of local election officials conducted by the nonprofit organization earlier this year found that roughly 33% of respondents reported being threatened or harassed because of their job, and that approximately 20% of officials nationwide would be conducting their first presidential election in 2024. 
"While we're now on the right track to secure our election infrastructure against cyberattack, new and different threats have arisen, including threats of physical harm to our election officials, their family and their staff," Howard said, adding that "large numbers of resignations can also result in more administrative mistakes, which can in turn fuel conspiracy theories and threats, continuing the cycle that has led to resignations in the first place."