Civic hackers explore ways to streamline government operations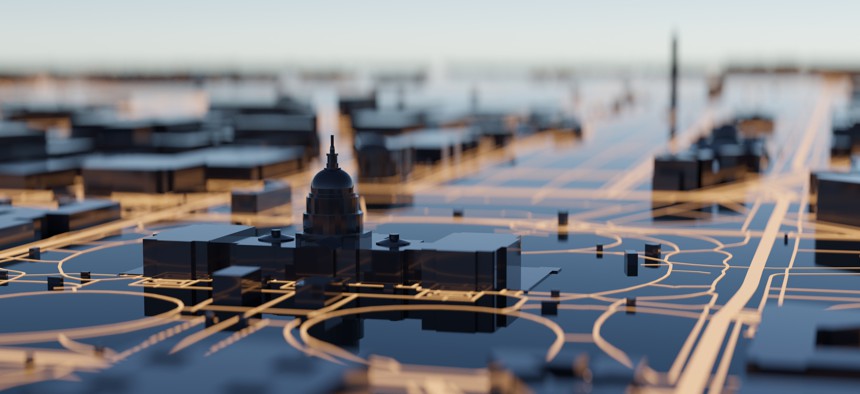 Lawmakers and technologists united for a day of civic hacking on Capitol Hill as part of an effort to modernize government services and make government operations more efficient.
Computer researchers, data scientists and congressional staff convened on Capitol Hill Thursday to help develop new ways to enhance public-facing digital services across federal agencies and streamline government operations with the help of emerging technologies. 
The fifth congressional hackathon brought together civic hackers and a bipartisan group of lawmakers to discuss ongoing cross-agency modernization efforts and share ideas about how artificial intelligence, automation and digital tools can further modernize Congress and bolster national security. 
"Just like how AI grows faster, I want the solutions to be fast," House Speaker Kevin McCarthy, R-Calif., said in his opening remarks. "I expect big things to happen and come out of here." 
"There's no bad idea, there's no wrong question," he added. "Most of the time the crazy ones turn out to be the best." 
Developers and computer researchers shared prototypes of pilot projects and new applications designed to address longstanding challenges in Congress, like casework loads and scheduling conflicts. 
One tool developed by the Office of the Chief Administrative Officer helps congressional committees deconflict schedules by providing clerks with a comprehensive schedule for Congress, including all upcoming hearings and lawmaker agendas, to ensure committee members can be available for key dates. The Republican-led House and Democrat-led Senate tasked CAO last year with developing the committee schedule deconfliction tool, which can be leveraged by both committee clerks and leadership offices for advance scheduling purposes. 
CAO also served as a host for the fifth congressional hackathon, as part of an effort to further institutionalize the event following recommendations from the House Select Committee on the Modernization of Congress last year to further promote innovation and collaboration between lawmakers and tech experts.
Another app designed by the nonpartisan civic engagement platform Popvox offers congressional offices new automation tools and additional methods to streamline the facilitation of responses and services to constituents who request assistance. The app preserves staff capabilities by automating certain components of their work and addressing latent vulnerabilities to help build constituent trust and streamline crisis response. 
The congressional hackathon was first launched by Rep. Steny Hoyer, D-Md., in 2011. The congressman said Thursday that prototypes from previous years are currently being developed into "major modernization" projects and attributed the hackathons with driving significant technological advancements within the legislative process.
"We helped open legislative data to the world, enabling companies, academics and congressional offices to build apps using congressional data," he said, adding that "one of the greatest legacies of this event is the community that it has fostered over the years."