Third US-EU Trade and Tech Meeting to Feature Major Technological Development Goals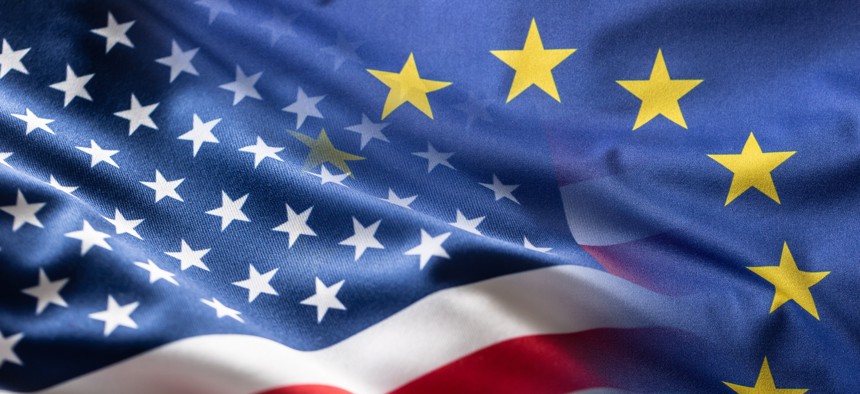 The third ministerial meeting of the U.S.-EU Trade and Technology Council aims to foster bilateral initiatives and confront challenges posed by China's economic policies.
The US will join its European counterparts for the third ministerial meeting of the US-EU Trade and Technology Council on Monday, focusing on new geopolitical initiatives spanning Russia and China diplomatic efforts and digital trade agreements. 
Co-chairs of the council, namely U.S. Secretary of State Antony Blinken, Secretary of Commerce Gina Raimondo, and United States Trade Representative Katherine Tai and European Commission Executive Vice Presidents Margrethe Vestager and Valdis Dombrovskis, will conduct the dialogue. 
The discussion is slated to be dominated by the Chinese non-market economy and the global economic fallout stemming from Russia's invasion of Ukraine, along with digital trade between the US and EU and its impact on shared climate goals.
The Biden administration formed a list of critical outcomes it hopes to achieve following the meeting, many of which center on developing and implementing new technologies. Some include a shared roadmap on measuring trustworthy artificial intelligence technologies, collaborations to develop privacy enhancing technologies and synthetic data in health and medicine, quantum technologies, and electric vehicle standards recommendations.
"We plan to compile and exchange information on respective initiatives to use digital technology to simplify the cost of doing business with our governments," a spokesperson from the National Security Council said. "We will then build on this information exchange to identify ways to use and promote the compatibility of digital tools."
Diplomatic strategy will also intersect with the meeting's goals. US and EU stakeholders will set out to develop a series of emergency mechanisms to support human rights, particularly surrounding Internet access. 
China's economic policies will also be heavily discussed. Both the US and EU are planning on addressing the market of their medical device companies based in China to better gauge China's economic impact on Western companies. 
Scheduled to take place in College Park, Maryland, the event follows two previous ministerial meetings. The first, set in Pittsburgh, saw the development of 10 separate working groups specializing in different policy agendas. The second took place in Paris, which focused on the ongoing Russia-Ukraine conflict. 
In this meeting, leaders from Kenya and Jamaica will also attend virtually as part of a session devoted to deploying internet and digital connectivity across both countries. 
"These projects are part of our efforts through the TTC to support secure and resilient digital connectivity and information and communication technology and services supply chains in third countries, provided by trusted suppliers," the spokesperson said regarding Kenya and Jamaica's participation.