Justice Reveals Use of a Double Agent in Complaint Against Chinese Spies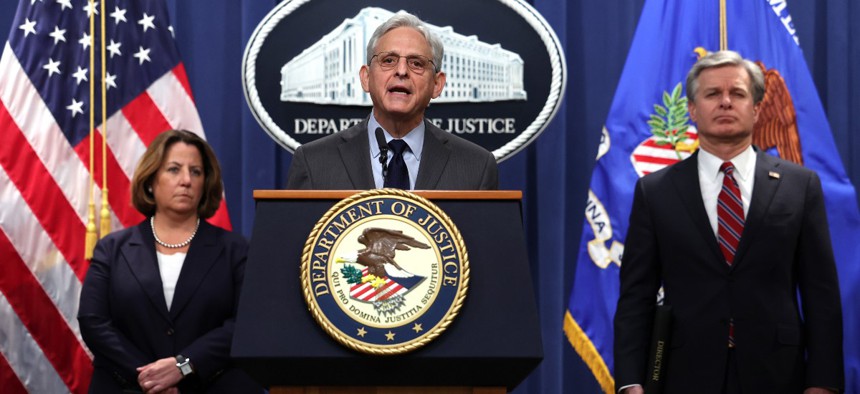 The spies were charged with obstruction of justice during the prosecution of a Chinese telecommunications firm in one of three indictments the department uncovered related to China's quest for technological superiority and global standing, officials said.
Two intelligence officers working on behalf of the People's Republic of China thought they were successfully bribing a U.S. law enforcement officer to sabotage the government's case against a PRC-based telecommunications firm, but they were wrong, according to an indictment the Justice Department unsealed Monday.
"The insider flipped the script on the defendants by working not for them, but for team America," Deputy Attorney General Lisa Monaco said at a press conference announcing the charges against Guochun He and Zheng Wang.
Officials declined to identify the telecommunications company, but the timeline of events and reporting from Reuters suggest the defendants were trying to gain an edge in the government's case against Huawei, which in 2018 was charged in connection with a violation of U.S. sanctions against Iran. 
"This case exposes the interconnection between PRC intelligence officers and Chinese companies," Monaco said. "It demonstrates once again why such companies, especially in the telecommunications industry, shouldn't be trusted to securely handle our sensitive personal data and communications."
According to the Justice Department, the defendants paid the apparent turncoat a total of $61,000 in Bitcoin for what they thought were the prosecution's strategy and other documents related to the case. 
"In fact, the documents were prepared by the US government for the purpose of this investigation, and did not reveal actual meetings, communications or strategies," Attorney General Merrick Garland said during the press conference. "This was an egregious attempt by PRC intelligence officers to shield a PRC-based company from accountability and to undermine the integrity of our judicial system.
Justice also revealed two other indictments, including one where two of the defendants were arrested. One of those cases allegedly involved more Chinese intelligence officers—posing as members of a think tank—trying to procure and ship U.S. technology and equipment to China by bribing members of academia and attempting to disrupt protests on U.S. soil that would have been unflattering to Beijing. The other allegedly involved a campaign to harass and threaten political dissidents seeking refuge in the U.S. into returning to China.       
"As these cases demonstrate, the government of China sought to interfere with the rights and freedoms of individuals in the United States and to undermine our judicial system that protects those rights," Garland said. "They did not succeed. The Justice Department will not tolerate attempts by any foreign power to undermine the rule of law upon which our democracy is based."