Democrats Announce Plan to Avert a Shutdown and Suspend the Debt Ceiling in a Single Bill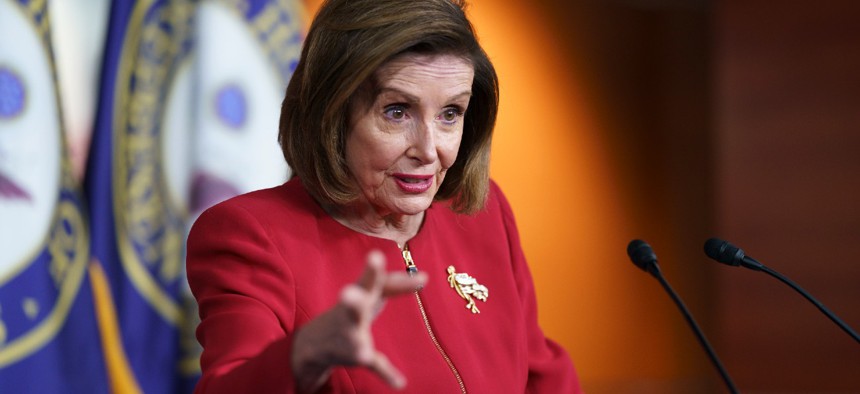 Congressional Democrats on Monday raised the stakes for the pending spending showdown, announcing they would attach a 15-month suspension of the federal debt limit to a stopgap funding bill that lawmakers must pass by the end of September to keep federal agencies open. 
The move could complicate passage of the continuing resolution, as Republicans have been steadfast in their opposition to a debt ceiling hike or suspension and vowed to vote against any legislation that would do so. House Speaker Nancy Pelosi, D-Calif., and Senate Majority Leader Chuck Schumer, D-N.Y., said the measure would fund federal agencies through the end of the year and suspend the debt limit through December 2022. 
Pelosi and Schumer said in a joint statement the House would pass the legislation this week to "avoid a needless government shutdown that would harm American families and our economic recovery before the September 30th deadline." The legislation will also include emergency funding to address responses to various natural disasters and the resettlement of Afghan evacuees. President Biden has asked for up to $30 billion for those issues as part of the continuing resolution. 
The Democratic leaders said the measure would avoid both a shutdown and default on U.S. debt, noting many Republicans supported and President Trump signed into law a COVID-19 relief package that contributed to the current debt level. The Treasury Department has instituted "extraordinary measures" to avoid breaching that ceiling but it still expects to reach the limit sometime in October.
"Addressing the debt limit is about meeting obligations the government has already made, like the bipartisan emergency COVID relief legislation from December as well as vital payments to Social Security recipients and our veterans," Pelosi and Schumer said. "Furthermore, as the administration warned last week, a reckless Republican-forced default could plunge the country into a recession."
The path forward for the bill in the Senate is unclear, as almost all Republican senators have said they will vote against any measure raising or suspending the debt ceiling. The chamber will require 60 votes to pass the bill. Republicans have called on Democrats to use a process known as reconciliation to pass a separate measure to raise the borrowing cap, as it would allow them to do so without any support from the minority party. 
Senate Minority Leader Mitch McConnell, R-Ky., doubled down on that position from the Senate floor on Monday, saying Republicans would only support a CR if it did not include a debt limit increase. 
"We do not have divided government," McConnell said. "[Democrats] do not need our help." 
Agencies would be forced to initiate shutdown procedures starting Oct. 1 if Congress fails to pass a spending bill before then. Pelosi and Schumer said their stopgap bill would allow both Democrats and Republicans time to address their priorities through line-by-line, full-year appropriations that would set funding levels for every federal office in government for fiscal 2022.