Bipartisan Calls to Regulate Facial Recognition Tech Grow Louder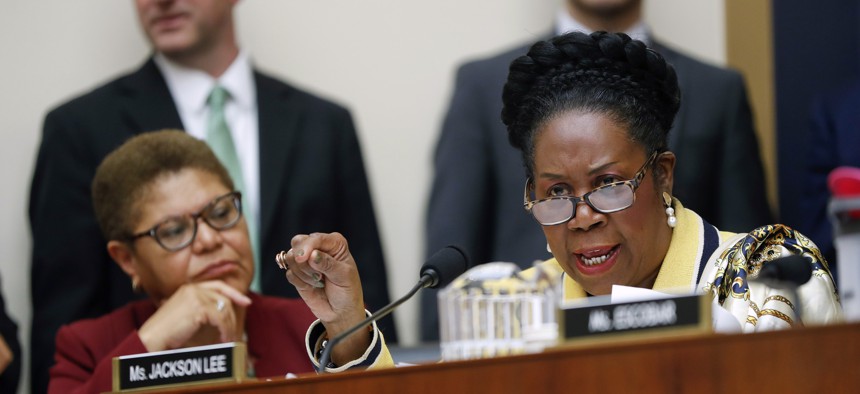 Lawmakers on both sides of the political aisle have concerns about increased use of biometric technology.
Democrats and Republicans on the House Judiciary Subcommittee on Crime, Terrorism and Homeland Security expressed concerns in a hearing Tuesday on the increased use of facial recognition by the federal government and law enforcement.
The hearing included testimony from a variety of witnesses, including legal experts and researchers, federal officials and a Michigan man who was wrongfully arrested by Detroit police after being misidentified by facial recognition software.
Subcommittee chair Sheila Jackson Lee, D-Texas, said Congress "should be engaged in oversight and legislative response" to facial recognition and biometric technologies. Despite political differences, Jackson's words were echoed by the subcommittee's ranking member, Andy Biggs, R-Ariz., and Ohio Republican Jim Jordan.
"Facial recognition technology is one issue we share common ground on," said Jordan, noting that its unchecked use poses First Amendment, Fourth Amendment and due process concerns. "Every American should be troubled by this."
The hearing follows a June Government Accountability Office audit that found 20 of 42 federal agencies surveyed owned or used a system with facial recognition technology, some of which included "hundreds of millions or billions of photos of various types." The audit further found that more than a dozen federal agencies didn't know the full scope of their facial recognition efforts and lacked effective means to track the technology's use.
"Use of this technology has expanded in recent years, and questions exist in its use, transparency and privacy and civil liberties," Greta Goodwin, GAO's director of Homeland Security and Justice, said at the Tuesday hearing.
Goodwin told lawmakers that recent high-profile uses of facial recognition technology by federal law enforcement occurred in support of investigations following the killing of George Floyd and the Jan. 6 insurrection. Goodwin added that one of the problematic areas with facial recognition technology is its inaccuracy, especially when it comes to identifying—or misidentifying—minorities and women.
"Although the accuracy of the technology has increased dramatically in recent years, issues still exist," she said.
The hearing comes amid various bipartisan legislation that aims to address the emerging technology. In June, a bicameral group of lawmakers introduced the Facial Recognition and Biometric Technology Moratorium Act, which would—at least temporarily—halt the federal government's use of biometric technologies. In early July, several House lawmakers introduced a related bill that would prohibit the use of facial recognition technologies in public and assisted housing units that receive funding from the Housing and Urban Development Department.
"On the one hand, this technology is now a common-place fixture in our lives. On the other hand, most Americans have little understanding of how the police use facial recognition technologies to conduct surveillance of communities across the country, for better or for worse," said House Judiciary Committee Chairman Jerrold Nadler, D-N.Y.