DARPA Needs Help Securing Its Programs From Foreign Influence and Malicious Insiders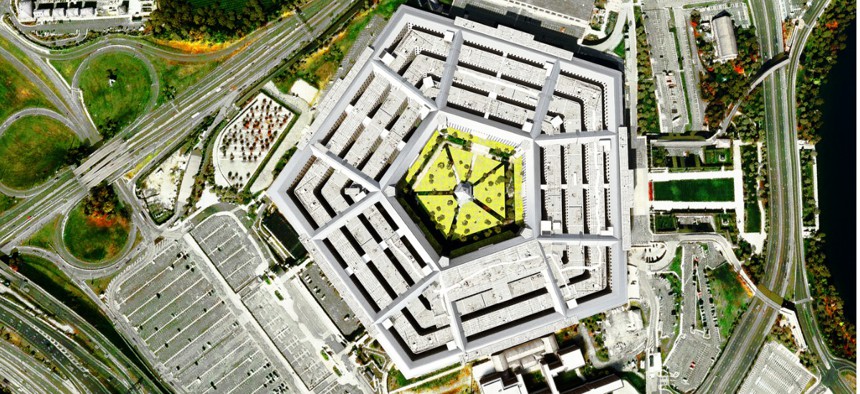 The agency works on the most advanced tech research on the planet, often with critical national security implications.
The Defense Department's main advanced research arm is on the outermost edge of technological progress and needs to ensure its work is protected from malicious eyes and foreign interference.
The Defense Advanced Research Projects Agency, or DARPA, is looking for a contractor to support its program security efforts and entered the first stage of market research with a request for information.
The agency works on a lot of sensitive research with national security implications. To that end, the Security and Intelligence Directorate, or SID, works with the other program offices to "apply risk-managed, proactive program protection and related services," the RFI states. That work is done by a mix of in-house security experts and contractor support.
"These personnel must be subject matter experts across multiple security disciplines, must not be paralyzed by the unknown or unfamiliar, and must possess critical thinking and analytical problem-solving skills that foster the creation of innovative security solutions to support program timelines and objectives, while maintaining compliance with applicable national security requirements," DARPA officials wrote.
The Program Security Services contract focuses on program security representatives, or PSRs: personnel with top secret clearances capable of working across multiple classification and information security levels. These positions develop security protocols for DARPA researchers and partners to ensure sensitive data is secured and only shared with appropriate people; prevent leaks and tampering by insider threats; and weigh the appropriateness of working with foreign entities on a given project, including assessing incoming grant proposals for inappropriate foreign influence.
The RFI notes this position "is unparalleled in any other contract position in the DOD."
"They are not stove-piped into a specific type of program support—i.e., just collateral, just SAP or SCI, or just CUI," the document states. "As they are imbedded directly into the technical offices as part of a DARPA [program manager's] team, they are the 'tip of the spear' for execution of SID's primary function, enabling the secure development of DARPA technologies."
Whereas program security personnel in other DOD components often follow strict guidelines, DARPA reps must be agile and able to develop new security protocols capable of matching the revolutionary technology being worked on by any given program.
The RFI outlines this work in a series of objectives for the winning vendor:
Identification of critical and enabling technologies through the technology decomposition process.
Determining applicable national security policy and existing related programs for horizontal protection.
Facilitating intelligence and counterintelligence support.
Projecting test and transportation security needs.
Intelligently crafting and executing proposed security classification architectures and program protection plans that balance security requirements with program cost and schedule constraints.
The PSRs must also think about how the information and technology will remain secure after it leaves DARPA, as most of the agency's efforts are eventually pushed out to other departments and the private sector.
The expiring contract is held by System High Corporation.
For the new contract, DARPA officials are looking at procurement strategies, including opening the opportunity to small and large businesses.
Contracting officials expect to make a single award, with a base period of one year, with four one-year add-on options. The contract is expected to kick off in February 2022.
Responses to the RFI are due by 2 p.m. April 19.