Agencies Can Continue Making Special COVID-19 Hires Through 2021, OPM Says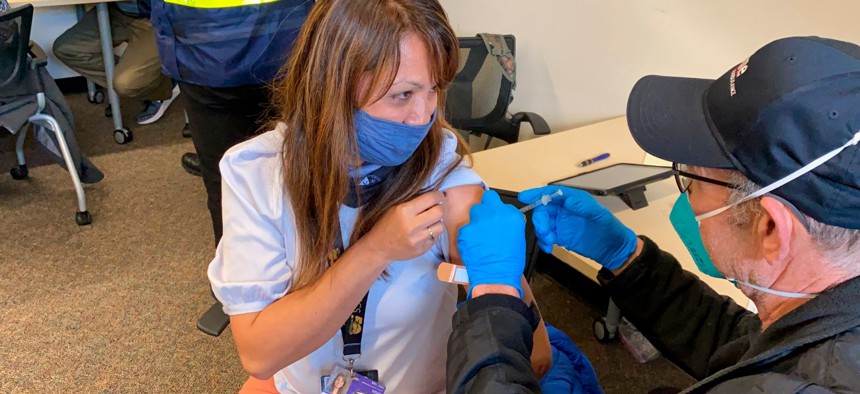 Some agencies have used the authority to dramatically ramp up their hiring.
The Biden administration is extending the timeline for agencies to use expedited hiring authority to onboard employees working on matters related to the COVID-19 pandemic. 
The Trump administration first granted the authority to use Schedule A hiring in response to what was then an early outbreak of the novel coronavirus in March of 2020, but that permission was set to expire at the end of the current month. Kathleen McGettigan, acting director of the Office of Personnel Management, extended the deadline through 2021 in a memorandum on Monday, saying agencies could use the authority to fill positions related to pandemic response as needed. Employees can serve for up to two years in those positions.
"COVID-19 continues to be a serious public health emergency," OPM said in a fact sheet accompanying the memo. "OPM recognizes the presence of this pandemic may continue to have a negative impact agencies' ability to meet mission and/or hiring needs throughout 2021."
Under the special authority, agencies are not required to publicly post openings and can bypass other steps that typically bog down federal hiring. The employees are eligible for health insurance and other select benefits, but not the full suite offered to most federal workers. Schedule A authority is typically used to hire applicants with disabilities, which the Obama administration targeted when it onboarded more than 100,000 such workers over a five-year period.  
Several agencies with missions directly related to pandemic response have grown their workforces over the last year. The Veterans Affairs Department has brought on 80,000 permanent and temporary employees since the coronavirus outbreak began, which leadership has said was only possible due to the flexibilities granted by OPM. VA said it has made most of its hires within three days thanks to the expedited measures currently in place. The Small Business Administration onboarded more than 6,000 employees between March and September 2020 as it ramped up its capacity to deliver unprecedented sums of money to businesses reeling from the pandemic's fallout. Those employees were primarily non-permanent staff, according to a review by the Partnership for Public Service, which found SBA used a wide range of special authorities to make the hires. 
While the hiring authority is set to expire by Dec. 31 or at the end of the national emergency, if that comes sooner, those onboarded under its purview can remain in their jobs past that date. OPM previously cautioned agencies against using the authority for any positions not directly related to COVID-19 response. 
In its study, the Partnership for Public Service noted interest in federal jobs—as measured by visits to USAJOBS.gov—spiked during the pandemic as many sectors of the economy contracted. Overall, the size of the federal workforce grew by about 2% between March and December 2020 and all but two federal departments saw their rolls grow in that time.