Poll Finds Steep Drop in Satisfaction With Government in the U.S.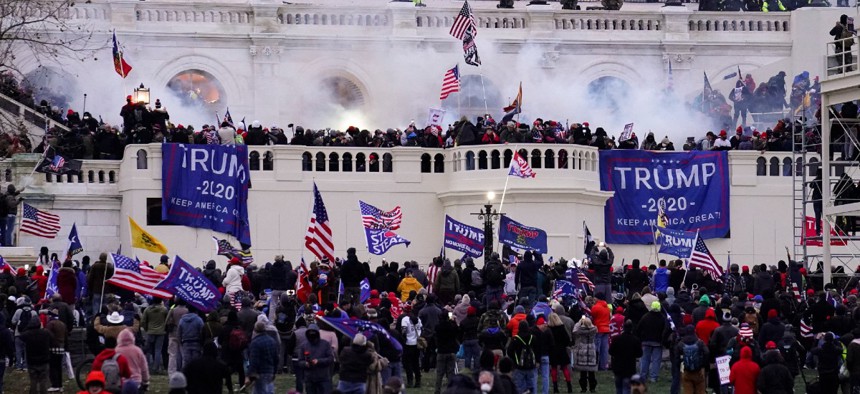 The Gallup survey results indicate people are unhappy with other aspects of American life as well, like the moral climate and the influence of corporations.
Only about one-quarter of Americans are now satisfied with the nation's system of government and how well it works, according to a recent Gallup poll.
The poll found that people expressing satisfaction on this topic during a January survey fell sharply to only 27%, from 43% last year. The level of dissatisfaction with how government is working—at 73%—is higher than in any prior year in the past two decades when comparing it to past survey measurements Gallup has recorded.
Much of this year's drop was driven by Republicans. The level of satisfaction with the system of government fell to just 30%, from 54% in 2020, among people who are Republicans or lean toward the party. For Democrats, the decline was more modest, to 24% from 30%.
The poll suggests that Americans have grown increasingly dissatisfied with other aspects of the country as well. It comes at a time when the nation for nearly a year now has seen day-to-day life and huge segments of the economy upended by the coronavirus pandemic.
Conducted from Jan. 4-15, the survey captures people's views during Donald Trump's final weeks as president, at a time when he and his surrogates were pushing unproven allegations that widespread voter fraud occurred during the November presidential election. Trump lost the election to President Biden, who was sworn in on Jan. 20.
In the past year, the nation has seen various episodes of unrest, some of which have turned unwieldy and violent.
On Jan. 6, a mob of people loyal to Trump, including some with ties to far-right extremist groups, stormed the U.S. Capitol.
Meanwhile, people upset over coronavirus-related public health restrictions have demonstrated at statehouses. And there was a wave of protests over racial injustice and police brutality.
Broadly, the Gallup poll found that the average percentage of people satisfied with seven dimensions of U.S. life fell to 39% at the start of 2021, compared to 53% a year ago.
The satisfaction rate with the size and power of the federal government slipped to 31% from 38% last January. People also voiced unhappiness with the size and influence of major corporations. In that area, the share of people satisfied dropped to 26% from 41%.
Asked about the moral and ethical climate of the U.S., just 18% of respondents said they were satisfied, which marks a 14 percentage point drop over 2020.
A majority of those surveyed did say they were satisfied with the overall quality of life in America (67%) and the opportunity to get ahead by working hard (58%). But those satisfaction rates also fell compared to 2020, by 17 and 14 percentage points respectively.
The survey was based on phone interviews with 1,023 adults living in all 50 U.S. states and the District of Columbia. For results based on the total national sample, the margin of error is +/- 4 percentage points at the 95% confidence level. Gallup's full results can be found here.