Author Archive
Bill Lucia
Senior Reporter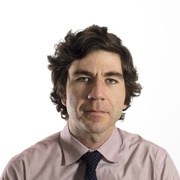 Bill Lucia is a Senior Reporter for Government Executive's Route Fifty. He previously covered Seattle city government for Crosscut.com and holds a master's in public administration from the University of Washington's Evans School of Public Affairs.
CIO Briefing
About 60% of respondents anticipated less than a third of workers would return to the office by early September because of coronavirus risks. Some are planning for a portion of staff to still be working remotely even next summer.
Emerging Tech
Elected leaders in Portland, Oregon approved the measure this week.
Emerging Tech
The company's announcement comes as destructive fires are burning in a number of western states.
---
Emerging Tech
The Election Integrity Partnership consists of university researchers and others. Local election officials are among those the partnership is hoping to assist in the weeks ahead.
Emerging Tech
The limited findings raise doubts about the effectiveness of neck gaiters and bandanas in preventing the spread of the coronavirus.
CIO Briefing
"The effect is greatest when 100% of the public wear face masks," researchers wrote, suggesting that officials should encourage people to cover their faces in public.
IT Modernization
Meanwhile, a California education official this week said it would take at least $500 million to get students there the computers and internet access they need, and asked the private sector to help.
CIO Briefing
The 19-page proposal recommends tapping existing federal programs to funnel money to infrastructure projects.
Policy
A new U.S. Senate bill comes amid concerns that online criminals can "spoof" the public with fake government websites.
Emerging Tech
New research offers a window into what states are doing to help get about 20 million Americans who now lack reliable, high-speed internet connected with the service.
Emerging Tech
The $20 billion proposed initiative would also set higher standards for internet speeds.
Policy
"This case is hugely significant," says one legal scholar.
CIO Briefing
State and local governments are among the groups that have objected to the Census asking about citizenship status.
CIO Briefing
Participants in the Startup in Residence program are seeking solutions for about 80 "civic challenges."
Policy
The Supreme Court's ruling in South Dakota v. Wayfair scraps a precedent that dates back to the heyday of mail order catalogs.
Data
A top body camera company has launched a panel to explore the issue. Civil rights and privacy groups aren't totally satisfied.
Data
The U.S. Conference of Mayors is joining the legal action as well.
Policy
There were frictions over issues involving funding and environmental permitting in a hearing on Thursday.
Emerging Tech
Over half the respondents to a Northeastern University/Gallup survey also said they are unlikely to regularly use the technology.